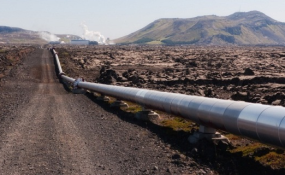 Photo: Daily News
By Rose Athumani
The Association of Tanzania Oil and Gas Service Providers (ATOGS) and their Ugandan counterparts Association of Uganda Oil and Gas Service Providers (AUGOS) have signed an agreement that will see the two working together in the Hoima-Tanga pipeline project.
Speaking at the signing ceremony yesterday, ATOGS cofounder and Vice- Chairman Mr Abdulsamad Abdulrahim said the signing ceremony marks the be ginning of collaboration between the two in a journey to grow the economies of Tanzania and Uganda.
The agreement will see Tanzanian and Ugandan service providers in the oil and gas industry do joint biddings for tenders in different areas of the pipeline project, including transportation of materials.
Uganda's AUGOS Chief Executive Officer (CEO), Mr Emmanuel Mugarura encouraged Tanzania service providers in the industry to be strong, work together and uphold standards that are required in the industry.
Mr Mugarura said it is only through hard work that the service providers from Tanzania and Uganda can achieve the required standards in the industry.
"It's through standards that you can stand up and talk...stand up and compete, join tenders and stand up against Chinese, Europeans and Americans who have been in the game longer and they have money. The advantage we have is that we are East African," Mr Mugarura explained.
ATOGS was formed as a result of AUGOS, after service providers visited Uganda and saw the need to establish an association that brings together local business service providers. One of ATOGS objectives is promoting local content in the oil and gas industry through supporting job and business opportunities for nationals and local businesses in the country.
Earlier, while speaking with ATOGS members, Senior VicePresident (Business Development) of Prezioso Linjebygg Company, Jean -Louis Chassagne said the company has vast experience in executing such major oil and gas projects.
Prezioso Linjebygg is among seven companies bidding for tenders in the execution of Hoima -Tanga Oil Pipeline project. Mr Chassagne said the company works across the continent in countries including Angola, Congo, South Africa, Gabon, Ghana, Algeria and Equatorial Guinea.
He said that through the Hoima-Tanga Oil Pipeline project, the company seeks to establish an installation system in the country, complete with workshops where local Tanzanians will work after going through training.
The French-based company, which was established in 1957 with presence in 14 countries, has vast experience of local content from working in the continent, is looking to create about 3,000 jobs for Tanzanians and is currently canvassing the best place to establish a training center.
Mr Chassagne said the company is familiar with developing large local content manpower, hiring and training and they are seeking to do the same in Tanzania and Uganda when they win the tender.
Speaking to the 'Daily News,' Transport Operations Officer, Mr Harshil Davda of Simba Logistics one of the service providers said they are well prepared to provide transport services and are already procuring more fleet of trucks to cater for the envisaged need.
"This means we will also create employment as we increase our fleet of trucks. From the project, there will be need of between 1,000 to 1,500 trucks," he explained.
Currently Simba logistics has about 300 trucks operating within East Africa and outside. Head of Corporate Affairs, WiA group, Mr Abraham Mwapongo said the information and technology company is positioned to provide internet and other ICT services that would be needed.
Mr Mwapongo revealed that the ICT company is already providing services to major companies including Total, NMB Bank and Tanapa.