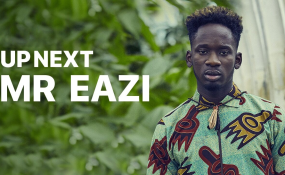 Photo: Mr Eazi/Instagram
Popstar, Mr. Eazi jetted out of the country, Wednesday, to the East African country of Uganda for #dettyworldtour.
Mr. Eazi announced his trip to Uganda on his Instagram page. He wrote, "It's not a lie! I'm on my way to #Uganda later today!!!! #lifeiseazi #dettyworldtour." His announcement came few hours after he revealed in an interview with Beat FM why he had to dump his lucrative job which paid him about six thousand dollars per month in order to find fulfilment in music.
According to him, his family hated him for leaving his job but love him now since his breakthrough after two first shows in London. "After I came back from Ghana, I got a job in oil and gas in Port Harcourt that paid about six thousand dollars per month but I quit because I was not finding fulfilment in it. I mean it was the same thing every day, the same routine over and over again. The decision to quit the job finally hit me when my boss' wife left him even with all the money he had. After I left my job, I got my Masters degree and with all that qualification, I started selling phones in Computer Village and everyone thought something was wrong with me."