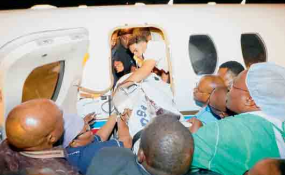 Photo: The Citizen
By Deogratiuskamagi Dkamagi@tz.nationmedia.com
Dar es Salaam — Iringa Urban MP on Chadema ticket, Rev Peter Msigwa, has dismissed a statement by Speaker of the Parliament, Mr Job Ndugai that a plane which airlifted opposition Chief Whip, MrTundu Lissu, to Nairobi for treatment was hired by CCM MP, Salim Abdullah.
Rev Msigwa, who is in Nairobi, Kenya accompanying Mr Lissu, was reacting to a prior statement made by Mr Ndugai in Parliament. He (Rev msigwa) took to social media accusing Mr Ndugai of misleading the Parliament.
On his post, the outspoken lawmaker, attached air ticket and receipts showing that the costs were covered by Chadema under a signature of its national Chairman, Freeman Mbowe.
Speaking Thursday, Sepetember 14 in Parliament, Speaker Ndugai said the Mr Salim paid $9,200 for the plane which took Mr Lissu to Nairobi.
Mr Speaker was responding to the query by Arusha urban MP GodblessLema who accused him of mistreating lawmakers by summoning them following their remarks related to attack of Lissu last week.
"We were in the hospital with many other MPs following the condition of Mr Lissu when he was shot. MPs and the office of the Parliament cooperated with the family until Mr Lissu was airlifted to Nairobi. Unfortunately, Mr Lema did not participate in any of that events until he's heard from Nairobi," said Mr Ndugai.
"Mr Turk who is CCM lawmaker ordered a plane from Nairobi at his cost of $9,200 to help Mr Lissu and would be refunded later," he said.
Mr Lissu is said to be doing well at Aga Khan Hospital in Nairobi where he is undergoing treatment.