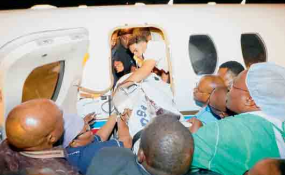 Photo: The Citizen
By Syriacus Buguzi
Dar es Salaam — The opposition party Chadema has on Thursday 14th clarified that Singida East MP, Tundu Lissu, is admitted at Nairobi Hospital and not at Aga Khan University Hospital as it was previously being reported.
Chadema spokesperson, Mr Tumaini Makene told The Citizen that initially it had been planned that Lissu be taken to Aga Khan University Hospital but this changed along the way.
"I have read in the media that Mr Lissus is admitted at Aga Khan Hospital. This is not true. He is actually at Nairobi Hospital," he said.
Lissu was airlifted only hours after he was hit with five out of 32 bullets sprayed on his vehicle by the unknown assailants in Dodoma on Thursday last week.
Plans are afoot to fly him to the US for further treatment. Mr Lissu, Chadema's chief whip survived injuries on his stomach and limbs and was flown to Nairobi on the advice of his family and party.