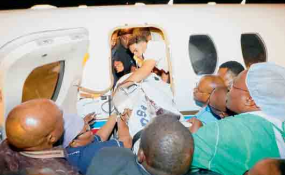 Photo: The Citizen
By Sylivester Domasa
Dodoma — The State has moved to form a task force to investigate the extrajudicial attacks on a prominent politician and a retired senior army officer, as no leads have emerged in relation to last Thursday's gun shooting.
Defence and National Service Minister Dr Hussein Mwinyi announced in the National Assembly yesterday that the government had formed a special task force whose members are drawn from all security organs, to probe the wave of attacks on high-profile personalities.
"I understand the task force has been formed and will work on the matter in a manner that will help restore and uphold peace," Dr Mwinyi said. He was responding to a supplementary question from Chambani MP Mr Yusuph Salum Hussein (CUF).
Gunmen shot and badly wounded the outspoken opposition MP for Singida East (Chadema) Tundu Lissu, a week ago near his Dodoma residence home, in an attack that shocked the nation known for its relative peace and stability.
Police launched a manhunt for Lissu's attackers who shot him in the stomach, leg and arm, according to medical reports. The MP was approaching the residence after attending the morning's National Assembly session.
Retired Major General of the Tanzania People's Defence Forces (TPDF) Mr Vincent Mritaba, was attacked at his Ununio house shortly after arriving from a local bank. The concerned lawmaker requested the government's clarification on why the army should not be involved in peace restoration efforts.
He had argued that the national army had won many accolades for helping to restore peace and security in foreign countries. "... but in the wake of gun attacks, there's no longer peace in our country."
He added: "I am aware that weapons that were used are supposed to be under the custody of the armed forces. Why can't the army mount operations to net the culprits?" In his response, the minister said the army's duty was to secure the country, but did, on request from other security organs, play its part.
"We have a unit that is responsible for conducting operations, arresting culprits and seizing firearms," he said.
Meanwhile, the minister explained that the army was consistently on standby to protect the country against any potential intruders, adding that the force had consolidated border posts by equipping them with modern and sophisticated facilities.
"The army has also been collaborating with other security organs partly to ensure that peace and security is maintained in the country," he said in response to a question from Mkoani MP Twahi Mohamed (CUF).