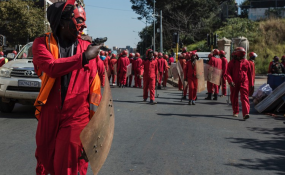 Photo: Ihsaan Haffejee/GroundUp
Eleven people arrested for public violence and malicious damage to property are expected in the George Magistrate's Court on Friday following violent protests in Thembalethu.
A total of 13 suspects were arrested after unrest broke out on Tuesday, reportedly after the demolition of illegal structures by the Red Ants in Asazani. The land is owned by provincial government.
Police spokesperson Captain Malcolm Pojie said residents barricaded the entrance roads to Thembalethu as well as the N2 with burning tyres and debris.
"Building sites, such as the Youth Centre, that is still under construction was torched and vandalised along with some construction equipment and vehicles. The total damages incurred will only be assessed after the situation had normalised," he said.
"Currently the situation is still volatile but stable. We shall maintain high visibility in the area by the local police, assisted by our Public Order Police to ensure safety of the community and commuters."
Two suspects were arrested on Tuesday and early on Wednesday morning on charges of public violence, and made their first appearance in the local magistrate's court on Thursday.
Ntomboxolo Makoba-Somdaka, spokesperson for Human Settlements MEC Bonginkosi Madikizela, said the land is earmarked for development and there was an interdict to prevent illegal occupation.
"The department indeed issued an instruction to demolish the structures as past experience has taught us that when you do not act on illegal invasions, it gets out of control and sterilises development," Makoba-Somdaka said.
"The department together with the municipality have agreed on projects to be implemented in George for the next three years, some of which are already at implementation stage, including the section that was invaded."
Hout Bay protests
Meanwhile, calm has been restored in Hout Bay after violent protests broke out earlier this week over recommendations to reduce the total allowed catch for West Coast Rock Lobster, as well as housing.
News24 on Thursday reported that the fisheries department had said that no final decision had yet been made about the upcoming season and a consultative process was underway.
The department said it had a duty to balance the needs of thousands of people fishing for food and income, with the goal of sustainable harvesting.
The fishing season for lobster started on October 1 for the Northern Cape and November 1 for other areas.
A meeting between police commanders and Hangberg community leaders took place at the local police station. Hout Bay police spokesperson Warrant Officer Tanya Lesch would not comment on the details thereof.
Outcome
Police spokesperson for the Western Cape Sergeant Noloyiso Rwexana also confirmed that no protest action had been reported in Kleinmond on Friday morning.
This after unrest broke out a fortnight ago after Overhills informal settlement residents were dissatisfied that a local resident had not been awarded a tender to clean up the town's streets, Netwerk24 reported.
News24 reporters visited the town on Thursday and found several shops were closed, with residents saying it had looked like "a warzone" the previous day.
Netwerk24 photographer Jaco Marais, who was covering the protests, was also assaulted and robbed of his belongings in Mooi Uitsig, Kleinmond, on Wednesday.
Source: News24