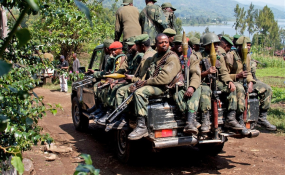 Photo: Jessica Hatcher/IRIN
Thousands of Burundi refugees have fled their country to the DRC in order to escape violence. Yet across the border, clashes with Congolese security forces have left some refugees dead.
At least 18 Burundian refugees were killed on Saturday after security forces from the Democratic Republic of Congo (DRC) fired on a group of refugees in South Kivu province in eastern DRC close to the Burundi border.
"There were shots from (Congolese forces) and the police on asylum seekers," said the UN's communications coordinator in the DRC, Florence Marchal. She confirmed Congolese soldiers had killed 18 and wounded 50 in the Kamanyola area of the province.
Other reports suggested more people had been killed. One commander of a UN peacekeeping battalion in the DRC told the Associated Press that 34 people had died. People who witnessed the clashes told news agency Reuters that at least 30 people were killed and over 100 people were injured.
Marchal said many refugees had since sought shelter at a nearby UN base and that the death toll is likely to rise. She could not comment on why the situation had escalated into violence, but said the Congolese government and the UN were investigating the incident.
Official reactions from the Congolese and Burundi governments were not available at the time of writing. Burundi's foreign minister, Alain-Aime Nyamitwe, demanded clarifications on the circumstances of the shootings on Twitter, writing "My heart sinks as I learn of the shootings in Eastern #DRC."
Crimes against humanity alleged
At least 40,000 Burundian refugees have fled to the DRC since April 2015 and more more than 2,000 refugees live in the Kamanyola area of the DRC's South Kivu province, according to the UN Refugee Agency.
Many Burundians have fled their homes after protests against Burundian President Pierre Nkurunziza's re-election escalated into widespread violence in the small country. Between 500 and 2,000 people have died since then, leading the UN investigators to urge the International Criminal Court to open an inquiry into crimes against humanity.
Around 360,000 Burundian refugees are in other neighboring countries. In February, Uganda announced it would remove the 45,000 refugees within its borders.
ape / kl (AP, AFP, Reuters)