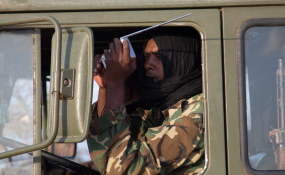 Photo: Hamza Mohamed
Ethiopian Prime Minister, Hailemariam Desalegn, has called on major stakeholders to assist the government to achieve a durable peace among the feuding parties in the Oromia and Somali regional states.
Clashes between members of the respective states have resulted in deaths and massive displacement on both sides.
Desalegn reiterated that federal security officers had been deployed to secure areas in the troubled spots. He was speaking at a meeting with community elders, tribal and religious leaders at his office on Saturday, the state owned Ethiopia News Agency reported.
"Main roads that cross the regional states will be guarded by the federal police; security forces of both regional states will withdraw from the conflicting areas in order to resolve the problem quickly," he said.
He also stressed the need to bring perpetrators of the clashes to book. The Ethiopian Human Rights Commission had also been deployed to investigate rights violations in the conflict. Leaders of the respective states were also part of the said meeting.
Desalegn expressed deep sorrow over the loss of lives - according to sources 18 people had died as at Friday (September 15), he added that the Federal government was going to do all it takes to ensure that those displaced were also rehabilitated.
The leaders also pledged their commitment to help resolve the crisis. The official reason advanced for the crisis has been a border demarcation between the two regions which share over 1400km border.