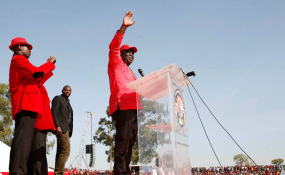 Photo: MDC-T
MDC-T leader Morgan Tsvangirai's health problems continue to cast a dark cloud over the emergence of a solid opposition merger against Zanu PF in next year's elections.
Analysts say the multi-party alliance would lack cutting edge without its 2018 presidential candidate.
Tsvangirai is battling colon cancer and was Thursday airlifted to South Africa for treatment over a related ailment.
His spokesperson Luke Tamborinyoka was quick to play down media reports the ex-prime minister was battling for life.
Since he went public about his ailment months ago, Tsvangirai is now a pale shadow of the tough opposition firebrand that emerged from trade unionism to keep Zanu PF on its toes since 2000.
But in spite of his apparent frailties, his giant profile within opposition politics has been a source of hope for those keen to see the end of President Robert Mugabe's rule.
Analysts contend a fragile opposition coalition just formed is thin on politicians with the same charisma that Tsvangirai has.
Tsvangirai has resolutely kept the nucleus of the country's biggest opposition despite two crippling splits in its 18 year life.
Harare based political analyst, Tamuka Chirimambowa said Tsvangirai's sickness will weigh negatively on opposition hopes of upstaging Zanu PF in next year's polls.
"Morgan is a big figure in opposition politics and is one politician who has managed to identify his politics in Zimbabwe," Chirimambowa said of the ex-premier.
"His absence will definitely have an impact on the momentum of the coalition."
Should the worst happen to Tsvangirai, it is further felt, none of the current crop of MDC-T politicians can emerge with the little time left to hold the party together, let alone galvanise enough support among other coalition partners.
Tsvangirai's dreaded elimination from the presidential race next year through illness should naturally place former State and Zanu PF Vice President Joice Mujuru closer to his position.
But the thought of a Zanu PF descendant ascending to an opposition alliance dominated by MDC-T could be a bitter pill to swallow for opposition die-hards.
"Her history is questionable; her breaking from Zanu PF was not on the basis of disagreeing with Zanu PF but it came after being expelled from Zanu PF," said Chirimambowa.
Great Zimbabwe University history lecturer Takavafira Zhou also said the MDC alliance needs Tsvangirai if it were to have traction within Zimbabwean politics.
"Tsvangirai is certainly a pillar of strength in the MDC alliance so much that his illness at a time the alliance desperately needs him is a source of concern.
"He is certainly a cut above the rest in terms of popularity, capacity and credibility as the alliance leader," Zhou said.
The next of the mainstream politicians with profiles that could fit into the lofty post are MDC president Welshman Ncube and PDP leader Tendai Biti.
Zhou agrees but sees obstacles along the way.
"Both Ncube and Biti are former MDC-T secretary generals who can lead in the absence of Morgan if they are magnanimous enough to pursue the broad objectives of the alliance as opposed to the narrow mindedness and prejudice of their respective parties.
"It however maybe very difficult for the majoritarian MDC-T supporters to accept them as credible leaders given their walk out of MDC-T," Zhou said.