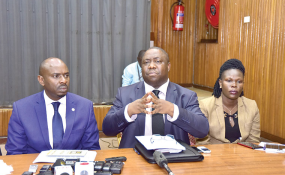 Photo: The Observer
By Gaaki Kigambo
As the debate over the scrapping of age limits on the presidency officially gets underway, the spotlight will now turn to the Speaker of Parliament Rebecca Kadaga. She is an arbiter between those opposed to age caps and proponents of the limit.
Those against removal of the age cap say they are defending the sanctity of the Constitution, while proponents say the limitations are discriminatory and restrict the electorate's free will to choose whomever they want to lead them.
On September 12, over 100 legislators from the ruling NRM party met in parliament for a "consultative meeting," where they took the first formal step towards removing the age limit by presenting a private member's Bill. This matter had until now been shrouded in prevarication.
While the tabling of the Bill had initially been slated for Thursday, September 14, it was postponed to Thursday, September 21, because of Ms Kadaga's absence, whom the NRM MPs prefer to handle the Bill.
At the height of the discussion last year, Ms Kadaga's deputy Jacob Oulanyah accused her of always ducking whenever a controversial issue came up.
Although Speaker Kadaga has always projected Parliament as independent from an overbearing executive, she has buckled under pressure on issues President Yoweri Museveni has shown direct interest in.
Will Speaker buckle under pressure again?
One example is the failed attempt in 2012 to recall the House over the sudden and mysterious death of outspoken Butaleja Woman MP Cerinah Nebanda, after the president warned it would only happen over his dead body.
In September 2016, Ms Kadaga rejected a private member's Bill that was similar to the one being tabled now, on account that the government has promised a Bill to handle all constitutional amendments, as well as establish a Constitution Review Commission to guide the process.
Robert Kafeero Ssekitooleko, a legislator from the ruling NRM party, attempted to table an amendment to raise the retirement age for Supreme Court and Court of Appeal judges from 70 years to 75 years.
However, his move was interpreted as a ruse to lift presidential age limits, which has fast become a toxic issue in the country's politics. Ms Kadaga told Mr Ssekitooleko that his Bill was not urgent.
The question now is, how will she rule this time round?
"Any MP can table a Bill on a matter he or she feels the government has not prioritised. Therefore, Ms Kadaga would be within her powers to give audience to such a Bill," said Joseph Munyangabo, a co-director at the non-profit Centre for Policy Analysis (CEPA), which runs Parliament Watch, an initiative that monitors and reports on the work of Uganda's Parliament.
"I think she will be careful to ask the member to liaise with the government or task the government to fulfil their promise to let the process proceed. If those who are opposed to the Bill are smart, they can call out the government since it is not parliamentary practice for ministers -- even if they are also MPs -- to back a private member's Bill," he added.
Retirement
Opponents of the Bill led by Theodore Ssekikubo, Wilfred Niwagaba, Mohammed Nsereko and Barnabas Tinkasimire -- whom the NRM attempted to expel from the party in 2013 -- have warned proponents that the proposed document is in contempt as the Speaker has twice ruled on the age limit question.
They said they will not let age limits be removed from the Constitution the same way term limits were changed in 2005.
"We want to warn our colleagues that this isn't going to go down well. Those pushing it don't wish President Museveni well. What we can and should be talking about is what retirement benefits he should enjoy," said Mr Nsereko, who represents Kampala Central -- the hotbed of opposition to President Museveni's government.
"Even if we are defeated in parliament, that is not the end. People across the country must rise up and defend the Constitution," said Felix Okot Ogong, who represents Dokolo South County. In 2011 he attempted to challenge President Museveni for the NRM chairmanship but was blocked.
This appeal to the public appears to have gained traction as more politicians and some sections of civil society call on citizens to pressure their MPs not to remove the age limit that some analysts say presents the last hurdle to a limitless Museveni presidency.
President Museveni is the primary beneficiary of the removal of age limits since he is ineligible to run again in 2021 as he will be 77 years old.
"NRM MPs are aware that citizens do not want age limits removed. If there was a referendum on it today, I'm sure that up to 80 per cent of voters would say no. So, there is evident hostility on the ground about this issue and that is why MPs are crying foul and invoking the army in a partisan issue. If they claim it is an issue of public interest why do they not want to involve the public to hear what they have to say?" said Sarah Bireete, a director of programmes at the non-profit Centre for Constitutional Governance, which is engaged in public awareness campaigns about reviewing the Constitution.