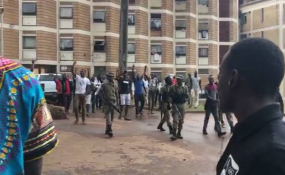 Photo: Daily Monitor
Police on Sunday fired bullets at Makerere University's Mitchell Hall following sharp disagreements between rival factions in the polarising debate on whether or not to lift the presidential age limit.
Witnesses say police shot in the air as they evacuated a section of youth leaders of the ruling National Resistance Movement (NRM) and other youth leaders who had gone to the university for a debate on "The youth and Constitutional Affairs." The dialogue was organised by Makerere Think Tank.
A group of students, however, stormed the debate venue and demanded the departure of the speakers on grounds that the issue of age limit is not for debate.
The development follows the declaration by a number of NRM MPs on Tuesday that they will table a private member's Bill to delete Article 102 (b) from the Constitution and do away with the age limitation to the presidency, different groups came up to support or oppose the proposal.
MPs, who in the last Parliament were dubbed 'rebel MPs', told the press a day later that they would even physically fight on the floor of Parliament to block the move.
Cabinet on Friday resolved to back the bid to remove the age limit from the constitution.