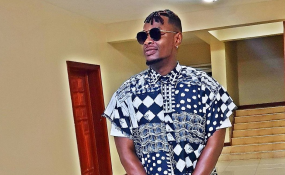 Photo: Ommy Dimpoz/Instagram
By Josephine Mosongo
On Wednesday morning, Bongo Flava musician Ommy Dimpoz was spotted walking into a police station in Dar e Salaam accompanied by two other unidentified men. According to reports from Tanzanian website Millard Ayo, Dimpoz was seen at the police station at around 11 am where reporters had also gone for a press conference.
Dimpoz, was at the station for five hours, and walked out in the evening. According to the site's sources, Dimpoz might have been questioned over a photo he had posted posing with Diamond Platnumz's mother back in August. The photo caused quite a stir online since the Kajiandae musician had captioned the photo referring to himself as Diamond's father, intimating that he had slept with Diamond's mother.
Dimpoz however did not reveal why he went to the station stating that he was not allowed to disclose his reason for the five-hour visit.