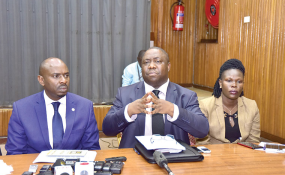 Photo: The Observer
By Sadab Kitatta Kaaya
After a long meeting on Friday, cabinet publicly declared its full backing for ruling party MPs pushing a bill to scrap the constitutional presidential age limit.
For long spoken about in roundabout fashion, it has rapidly become official policy to support a design whose effect will be to extend President Museveni's three-decade grip on state power beyond the current 75-year cap.
He will be 77 at the next election in 2021. Insider sources say that by the time Ruth Nankabirwa, the government chief whip, ended her briefing on the proposed private member's bill, she was preaching to the converted.
It did not matter that it had stoked opposition fires, with angry denunciations of 'life presidency' ambitions burning across social media. Her delivery was inside the Cabinet boardroom on floor 9, Office of the President.
"I told the meeting about the ongoing mobilisation by different groups of MPs on a proposal to amend the Constitution, and that one of the groups convened a big meeting, which was attended by some ministers although that meeting was not formally called by the government chief whip," Nankabirwa said by telephone on Saturday.
She laid down for colleagues the build-up of events to last Tuesday's surprise informal resolution by NRM MPs. She agreed with the MPs' argument that the government has dithered in presenting a bill for comprehensive electoral reforms.
"We said we should not antagonise the private member's bill but I am going to look at their resolution to see if it has financial implications," Nankabirwa told The Observer.
Ruling on a petition following the disputed 2016 presidential election, the Supreme court set a two-year time frame for these reforms. It is probably in this context that Nankabirwa broached the subject.
"I wanted to know whether government is going to constitute the Constitutional Review Commission," she said, "because MPs don't wish to handle the amendments in the last quarter of parliament."
Justice and Constitutional Affairs minister, Kahinda Otafiire, through whose docket the reforms are expected, yesterday said he sees no contradiction.
"The two are complementary, they are not parallel. If members of parliament want to bring a private member's bill, it's their choice. There is nothing that compels them to follow what we are doing if we are slow and they want that law much earlier," he said
"It's their right but that won't stop us from bringing a comprehensive bill and the constitution review commission that will also find its way to parliament. Parliament makes laws and is at liberty to choose what to discuss and when to discuss it."
After Nankabirwa, Prime Minister Ruhakana Rugunda is said to have asked minister of State for Investment and Privatization, Evelyn Anite, to clarify what she meant by recent comments about the army supporting NRM. A belligerent Anite had on Thursday said they won't be intimidated by their opponents.
"I want to make it very clear to them [opponents of the bill] again that you cannot intimidate a ruling party. Because if you go looking for support, we don't go looking for support. We're the party in government. We have the support of the magye [army]...," Anite said.
Sources say Anite seemed to reverse herself on Friday, telling cabinet that she was quoted out of context. The junior minister reportedly said she intended to mean that security agencies will, in exercise of their mandate, not allow anyone to threaten violence.
Uganda's armed forces are enjoined by the Constitution to be neutral, non-partisan institutions of state. Anite's bungling notwithstanding, ministers remained united.
"The general sentiment was that we need to handle it now and get it out of the way," sources said.
Reportedly vocal were Lt Gen Henry Tumukunde, the minister for Security; Maj Bright Rwamirama (state for Veteran Affairs) and Anite.
"Almost everyone talked and they kept repeating one another that we should support the private member's bill," the sources said.
Dr Rugunda gave the chairman's seal of approval, saying: "We should fully support it; it is already on table. We should just conclude it and get it out of the way other than leaving it in the public domain for many years."
Shortly, minister for ICT and Information Frank Tumwebaze was directed to announce cabinet's decision through mainstream and social media.
"Moving a private member's bill is a right of any member of parliament and the executive can only put up an objection if that proposed bill has financial implications that distort the national budget priorities as envisaged under Article 93 of the constitution," Tumwebaze said at the week's end.
"The executive can also object to a private member's bill if it's unconstitutional or is seeking to reverse any government policy. Without those, the executive can't object to any proposed private member's bill. The merits and demerits of it will be discussed by parliament if tabled," he added.
President Museveni was not in cabinet on Friday but is understood to have met some promoters of the bill a day after Tuesday's surprise developments.
In attendance at State House last Wednesday were Peter Ogwang (Usuk), Robinah Nabbanja (Kakumiro Woman), Arinaitwe Rwakajara (Workers) as well as former Forum for Democratic Change deputy treasurer Anita Among (Bukedea Woman) and Michael Tusiime (Mbarara Municipality).
This gathering convened shortly before Museveni's live media appearance to discuss the contentious Constitution (Amendment) Bill, 2017, on land.
A source said the MPs gave him a progress report and plan of action. Museveni reportedly encouraged them, later affirming this on air where he maintained that these MPs were acting as volunteers within their constitutional rights.
At the Tuesday meeting, some members expressed the need to move quickly, possibly even pressing parliament to waive its rules on how long bills are scrutinised in committee.
Nankabirwa reflected this tone, telling The Observer: "I am waiting for the notification; so, that I can call a caucus meeting maybe by Wednesday in accordance with the NRM caucus rules of procedure."