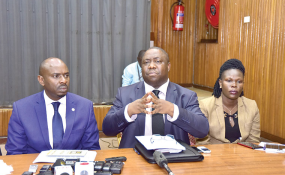 Photo: The Observer
opinion
By Bernard Tabaire
We are moving at a good clip. We will sooner amend the Constitution to prevent visionary presidents from dying, even as the rest of us die. If anybody ever says that is an exercise in lunacy, we shall simply invoke the spectre of military intervention.
Threaten. Intimidate. Limit free speech. This is the approach to be followed in dealing with public dissent against changing the Constitution to remove the age cap on running for president.
As minister Evelyn Anite was mouthing off on "we have the support of the magye", Uganda Communications Commission was issuing its own threats in apparent coordination.
"Warning against irresponsible use of social and electronic communication platforms." That is how UCC headlined its statement dated September 14.
"The Commission has noted with concern the increasing use of social and electronic media to perpetrate illegalities like sectarianism, hate speech, inciting public violence and prejudice, pornographic content among others, which is not only exposing the unsuspecting public to financial, social and emotional distress but also posing serious national security concerns."
The usual phrase that should concern us is this one: "serious national security concerns". This is a catchall phrase that the government has repeatedly used to control dissent. We will hear a lot about it in the coming weeks and months.
The question, of course, is that if the Anites (short for proponents of constitutional change to dubious ends) have a superior argument, why do they issue threats? Ms Anite could argue that she was merely responding to threats made earlier by anti-age limit change players such as MP Muhammad Nsereko. Maybe, except that there is no equivalence whatsoever between the utterances of a few MPs and the threats of a government minister to unleash the military, and a government agency to curtail expression.
The Anites are out to dominate the landscape by any means necessary and unnecessary to achieve their ends. There is therefore no point in going through the motions of moving motions on the floor of Parliament and taking votes.
The easiest thing is to be honest and save themselves and others the headache. They should declare martial law. It won't be the first time we have done it in Uganda.
President Museveni will do what he needs to stay President of Uganda, world without end. There are, obviously, the Anites who see that as a very good thing.
That then shifts the burden to those who say life presidency is worse than hell. They will have to make a stand. They will have to figure out how to take on an entrenched system. Just because that system maybe decadent does not mean it is easy to bring it down as some Opposition politicians tend to make it appear, in the process misleading their supporters. Waiting for the system to collapse under its own weight is equivalent to acquiescing to a Museveni life presidency.
The Zimbabweans know a thing or two about this approach.
Mr Tabaire is the co-founder and director of programmes at African Centre for Media Excellence in Kampala.