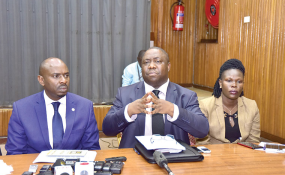 Photo: The Observer
editorial
State minister for Investment Evelyn Anite, who is among the NRM Members of Parliament at the forefront of the campaign to remove the age limit cap on the presidency, on Thursday bragged that the group had the backing on of the armed forces.
The next day on Friday, Workers MP Sam Lyomoki who is part of the group opposed to the change, made a counter claim that in fact the army supports them instead.
The army spokesperson found himself in a difficult situation when asked by the press and chose not to comment on the claims, only maintaining that the army will stick to its mandate of protecting the country's sovereignty. Yet this should have been a clear-cut matter and the army should have taken this early opportunity to clarify that its position is above partisan politics.
Hopefully, in the coming days the Chief of Defence Forces or his designated spokesperson shall come out emphatically on this matter as failure to do could drag the army back into the old perception that it is not truly professional and independent of its commander-in-chief and that it is still hostage to the Bush War history.
For the politicians, it is important that they all desist from the dangerous game of trying to draw the army into the political questions of the day. History has a lot to teach us and leaders peddling this should remember the time in the past that the army was drawn into the country's politics and the consequences of it.
The most outstanding of these is the 1966 Buganda Crisis when the army was directly used to resolve the standoff between Kabaka Edward Muteesa II and Prime Minister Milton Obote. The other was in 1980s after the fall of Idi Amin when Obote on the campaign trail and later in government kept chiding Democratic Party leader Paul Ssemogerere to show his "Generals". He was making the point that Ssemogerere had no military backing.
These and other less direct use of the military in our politics and elections in particular is responsible for the long trail of blood we have had to suffer as a country. Anybody invoking the army at this point is, therefore, either naïve or does not wish the country well.
We hope, therefore, that the politicians will keep off the army and the army shall keep off politics and let Ugandans decide the questions of the day in an atmosphere without guns and the smell of gunpowder.