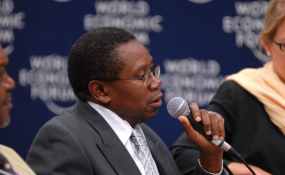 Photo: WEF
The Coalition of Democrats (CODE) has been hit by serious power struggles with two of the principals battling to lead the fragile eight member opposition political pact, New Zimbabwe has heard.
Current members of CODE are the Elton Mangoma's Renewal Democrats of Zimbabwe, Zapu, Mavambo/Kusile/Dawn of Simba Makoni, Democratic Restoration Assembly (Dare), the Zimbabwe Union for Democrats (Zunde), Barbara Nyagomo's Progressive Democrats of Zimbabwe (PDZ) and Marcellina Chikasha's African Democratic Party.
According to a highly placed CODE official, who requested anonymity, those battling for power are Mangoma and Makoni.
The two, he said, were claiming to have what is needed for them to take over the CODE stewardship.
"Mangoma boasts of his personal finances which he has acquired over the years from his auditing and accounting profession .He is saying that because of his financial stamina and muscle he has the ability to control the organization," said the official.
"Makoni on the other hand says he has the much credibility and respect in the donor community. His decade long experience in the regional bloc where he served as an administrator he also claims gives him advantage over everyone else in CODE," he said.
Makoni worked as the Executive Secretary of SADC for 10 years and was in 2003 implicated in a $25,000 scam that rocked the regional bloc in 1993, which resulted in the dismissal of three financial officers.
Makoni did the honorable thing by accepting full responsibility as executive secretary, but denied any personal wrongdoing before resigning.
In 1994, Makoni became managing director of Zimbabwe Newspapers for three years before joining the cabinet of President Robert Mugabe as finance minister. He faced strong opposition during the economic change in Zimbabwe in the early 2000s as his policies, especially devaluation of the Zim dollar, contradicted those of Mugabe.
"We also have the National People Party leader Joice Mujuru who is demanding to be given the top post before she comes on board," the CODE official said.
"But all these people are wasting their time because CODE is setting up an independent board which would look at the selection criteria for the President," he said.
Contacted for comment CODE chairperson Barbara Nyagomo said they were selecting the leadership.
"I am not aware, nor am I surprised. There might be a lot of deals which could have been done behind the scenes I am not aware of, but what I can safely say is that I and President Mbira of Zunde are tasked with looking at the leadership selection criteria," she said.