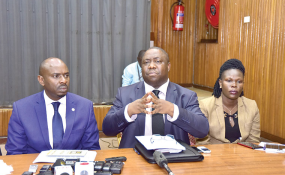 Photo: The Observer
By Isaac Mufumba
On Tuesday September 12, NRM legislators set into motion the wheels that will lead to the amendment of Article 102(b) of the Constitution to scrap the presidential age limit.
If successful, the move will enable President Museveni, who will be 77 years in 2021 when the next general election is due, two years above the current age limit of 75 years for a sitting President, to contest again if he wishes.
There is no record of any African president who opted not to take advantage of a constitutional amendment to cling to power.
Mr Museveni has already partaken of the benefits of two decisions by Parliament. First was the October 1989 decision by the then Parliament, the National Resistance Council, to extend the NRM's period of interim rule from four to 10 years. The second was the 2005 constitution amendment that led to the lifting of presidential term limits.
Nevertheless, should the legislators succeed in lifting the age limit as well, and Museveni who should have by now been a dozen years into his retirement opts not to cash in on it, he will have become the first African leader to opt not to extend his rule even when granted with the opportunity to do so on a silver platter.
As for now he is part of a club of several African leaders who have followed the noises of the songbirds in their own parties and tweaked the constitutions of their respective countries in order to extend their rule, but who are the others?
Sam Nujoma, Namibia
A former apartheid era revolutionary who rose to the leadership of the South West African People's Organization (Swapo), Nujoma took the lead in the "fight" for Namibia's independence.
Mr Nujoma, who took office on the day of Namibia's independence on March 21, 1990, presided over a constitution-making process that introduced multiparty democracy and presidential term limits that restricted a president to two terms in office.
He led Swapo to two victories, but soon found himself caught between his own ambitions and the desires of weaver birds within the ruling party, both of which required him to contest one more time under a special arrangement, which allowed him to do so without causing an amendment to the constitution.
Paul Kagame, Rwanda
A former spy chief with Uganda's Directorate of Military Intelligence, Mr Paul Kagame abandoned a military course in the United States and returned to Rwanda to lead the Rwanda Patriotic Front force to power in Kigali.
Mr Kagame, who first worked as Rwanda's defence minister and vice president, became president in 2000, but it was not until 2003 that he was officially elected into office after a new constitution had been promulgated.
The constitution provided for a limit of two seven-year terms. Following his re-election in 2010, he was due to have left office this year, but Rwandans voting in a December 2015 referendum approved several constitutional amendments, which allowed him to contest and get another seven-year term which began last month.
The amendment provided for a reduction in the presidential term of office from seven to five years, but abolished term limits, making it possible for Kagame, 59, to stay on possibly until 2034.
Sassou Nguesso, Republic Of Congo
Denis Sassou Nguesso, 74, who has been at the helm of the Republic of Congo for 31 years, first rose to power on February 8, 1979, when the Military Committee of the Party (CMP) of the Congolese Party of Labour (PCT) forced Col Joachim Yhombi-Opango out of power amid accusation of corruption in the tiny oil producing nation.
He was forced to introduce multiparty democracy in 1990 and suffered defeat in the first elections held in 1992, dropping out in the first round of voting after registering only 17 per cent of the vote.
That left the race to Pascal Lissouba of the Pan-African Union for Social Democracy and Bernard Kolelas of the Congolese Movement for Democracy and Integral Development. Lissouba was to later win.
Following the outbreak of a civil war in the period between 1993 and 1994, Sassou Nguesso fled to France, but returned to the country in 1997 to contest in the next general election, but violence broke out leading to a civil war which ended in 1999 when his militia, the Cobras, with the aid of Angolan troops, ousted Pascal Lissouba and swore him in on October 25, 1999.
In January 2002, a new constitution which gave the president more executive power and also extended presidential term limits from five to seven years was promulgated. He won the two elections that followed, albeit amidst controversy.
An October 25, 2015, referendum led to the scrapping of the 70-year age limit and allowed him to contest for third seven-year term. The 74-year-old was re-elected in a violence marred general election held on March 20, 2016.
Paul Biya, Cameroon
In Cameroon, president Paul Biya came to power in 1982 in the wake of the impromptu resignation of president Ahmadou Ahidjo.
Mr Biya, who had been leader of the ruling Cameroon National Union Party since 1983, was elected for a second term in office in 1988.
Following the introduction of political pluralism, he won the first pluralist vote which was held in 1992.
In 1996, the parliament adopted a new constitution which provided for a maximum of two seven-year terms for a president. He contested and won elections in 1997 and 2004. He was meant to have left office in 2011, but the constitution was amended in April 2008 and the term limits were scrapped. He subsequently stood and won the October 2011 election.
Obiang-Nguema, Equatorial Guinea
Equatorial Guinea's president Teodoro Obiang-Nguema rose to power in August 1979 after deposing his uncle, Francisco Macias Nguema.
He ruled the country as a military ruler until 1982 when he transitioned to civilian rule and also introduced a new constitution which set a presidential term at seven years, but never put a cap on the number of times one can contest for the presidency.
He was the only candidate in that first election held in 1982, and he has always been the "sole candidate" of his party the Democratic Party of Equatorial Guinea in all the four general elections which the party has won with landslide victories, the smallest of which, 93.7 per cent of the vote, was registered in last year's polls.
There have been five other general elections since the one of 1982 and the next election is due in 2022. He is expected to contest following the November 2011 referendum that allowed amendment of the constitution to scrap presidential age limits.
The amendment also led to the creation of the office of vice president and gave the president power to appoint such a person. He has since appointed his son, Teodorin Nguema Obiang to the position of vice president in charge of defence and security.
Jose Eduardo Dos Santos, Angola
Jose Eduardo Dos Santos, who led Angola for 37 years until last month, became president on September 21, 1979, after the death of Angola's first president, Agostinho Neto, on September 10, 1979.
Dos Santos failed to get an absolute majority in the 1992 elections that were called after a truce had been reached between his People's Movement for the Liberation of Angola (MPLA) and the rebel National Union for the Total Integration of Angola (UNITA).
A second round vote did not materialise following an outbreak of violence which later escalated into a full scale civil war, in which UNITA leader Jonas Savimbi was killed in February 2002, paving way for peace talks and the demobilisation of UNITA fighters.
In 2001, he announced that he would step down at the next general elections which had first been announced for 2006, then 2007 and lastly 2009, but clung on. In 2010 a new constitution which made the leader of the party with a majority in parliament the president was introduced so he stayed on as president after the MPLA won majority seats during the 2012 polls.
Dos Santos was to later announce that he would not seek re-election during last month's general elections. He has since been succeeded by his former defence minister, Mr Joao Lourenco.