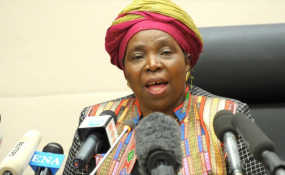 Photo: laprosperiteonline
analysis
By Sarah Gon
There is a naive expectation that women should be supportive of other women, particularly when they're in places of power such as in business and politics. Some are, but many are not. Dr Nkosazana Dlamini-Zuma is not. Many women who will be eligible to vote for the first time in 2019 were a mere five years old when Nkosazana Dlamini-Zuma was embroiled in a controversy about which we need reminding.
In 2006, Judge Jerry Shongwe, the deputy judge president of the High Court in Pretoria, ruled in favour of an application by a diplomatic employee, Lara Swart. This was a review of the decision taken by then Foreign Affairs Minister Dlamini-Zuma in April 2004 to uphold the appeal of Norman Mashabane against an internal disciplinary enquiry that had found him guilty of sexual harassment.
The judge set aside Dlamini-Zuma's decision, replacing it with the following: "The appeal is dismissed. The finding of guilt on three charges of sexual harassment and the sanction of dismissal are confirmed." Dlamini-Zuma was also ordered to apologise to Swart and pay her legal costs of about R500,000.
Swart said that she endured three-and-a-half years of hell after laying a complaint of sexual...