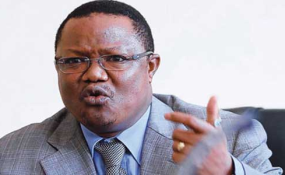 Photo: File photo/The Citizen
By Louis Kolumbia
Dar es Salaam — A total of $9,968, which is equivalent to Sh22.3 million, has been raised in four days by Chadema supporters in the diaspora.
The supporters embarked on a fund-riser last week in a bid to collect enough money to facilitate specialised treatment of the ailing Singida East MP, Tundu Lissu in the US.
The Chadema sympathisers in the diaspora organised an online fund-raising campaign with contribution being channeled through https://www.gofundme.com/Lissumedicalcare/donate. Party's target was to collect $50,000 (Sh112m), which would make it possible to fly Mr Lissu to the US for further treatment.
According to the status of contributions, the opposition party faces a task of raising $40,032 (Sh89.6m) in order to meet the target.
The Chadema Secretary General, Dr Vincent Mashinji, has been listed as the guarantor of the fundraiser.
The firebrand lawmaker is admitted at the Nairobi Hospital in Kenya where he was air-lifted hours after he was hit with five out of 32 bullets sprayed on his vehicle by unknown assailants.
Reports from the hospital availed by Iringa Urban Member of Parliament Peter Msigwa said made it that Mr Lissu's condition was improving.
"I thank God that Mr Lissu's condition is improving, we ask for Tanzanians to continue praying for him," Mr Msigwa told The Citizen from Nairobi.
He revealed that several politicians and government official have paid a visit to Mr Lissu. They are former Chief Justice (CJ) Mohamed Chande Othman, Singida North MP Lazaro Nyalandu and Kigoma Urban MP Zitto Kabwe.
Others are Tarime Rural MP John Heche, Arumeru East MP Joshua Nassari and Dar es Salaam City Council Mayor Issaya Mwita.
Party chairman Freeman Mbowe, Arusha Ur-ban MP Godbless Lema and Mr Msigwa are representing Chadema in facilitating Mr Lissu's treatment.
According to Mr Msigwa, Chadema supporters and other well-wishers held a special mass in Nairobi yesterday to pray for Mr Lissu's quick recovery.
Mr Lissu was attacked by people who are not yet identified as he was about to alight from his car in the municipality's leafy Area D suburb.
His attackers sprayed the front passenger door of his black Toyota Land Cruiser with bullets after Mr Lissu apparently hesitated to alight. Official reports disclosed that about 32 bullets were used in the attack.
Thinking that they had killed the lawmaker, the gunmen, who were in a car with heavily tinted windows, sped away from the scene.
The MP was rushed to the Dodoma Regional Hospital, where he was immediately wheeled into the theatre for surgery to remove the bullets lodged in his body and later airlifted to Nairobi Hospital after consultation with Mr Lissu's family and Chadema.
Reports from doctors made it that Mr Lissu, who is also the president of the Tanganyika Law Society, was injured several times in the abdomen, hands and legs.
Dodoma Regional Police Commander Gilles Muroto said preliminary investigations had established that the gunmen who shot Mr Lissu were in a white Nissan car and appealed to the public to volunteer information.
On that day, Mr Lissu left parliament grounds at around 1pm with his driver. His driver, noticed a white Nissan minivan trailing them, shortly after entering the main road.
He then, alerted his boss, but he continued driving until arriving at the lawmaker's residence.
According to Rombo MP Joseph Selasini, the assailants followed Mr Lissu to his home and stopped a few metres from where his car had stopped and waited for Mr Lissu to come out.
"When they realized that he wasn't going alight, they opened one of the windows of their car and shot one of the front tyres of Lissu's car. They then sprayed the front passenger door with bullets because they knew that was where Lissu was seated. They then sped away," said Mr Selasini, quoting the MP's driver.
Both Chadema and CCM issued statements to condemn the attack. Also, President John Magufuli wished Mr Lissu a quick recovery and directed security agencies to stop at nothing to arrest the culprits and bring them to justice.