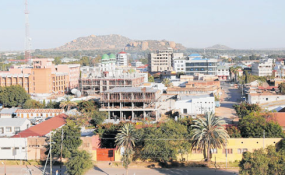 Photo: Emmanuel Herman/The Citizen
BRAZIL has officially cancelled 203 million US dollars debt owed by Tanzania accrued from a loan secured from the South American economic power house in 1979 for construction of Morogoro-Dodoma road.
Tanzania's Ambassador to Brazil, Emmanuel Nchimbi and a senior officer in Brazil National Treasury, Dr Sonia Portella signed agreement for cancelling the debt at an event held at Tanzania's Embassy in Brazil capital city of Brasilia, according to a statement issued yesterday.
A leader of Brazil government delegation at the event, a senior Officer from the Ministry of Finance, Guilheme Laux, declared opening of doors of trade and finance relations between Brazil and Tanzania that were closed because of the outstanding debt.
He said Brazil firms were allowed to secure loans for implementing investment projects in Tanzania and Tanzania's government could now begin discussions for new development projects with Brazil.
Ambassador Nchimbi thanked Brazil for the cancellation of the debt saying that would support efforts by the government to build a strong economy. He said Tanzania was focusing to strengthening of trade and economic relations with the emerging South American economic powerhouse.
Last March Brazilian Ambassador to Tanzania, Carlos Alfonso Iglesias Puente, told the 'Daily News' that the debt rescheduling would open up trading and financing opportunities by major Brazilian Financial Institutions such as Brazilian Development Bank, something which could not be before the rescheduling of the debt.
"The move will not only cement the existing good relations between our countries but also boost the Tanzania economy by facilitating the presence of Brazilian institutions financing various development programmes and projects here," he said in an exclusive interview.
Ambassador Puente, who was marking one year since he assumed diplomatic office in Dar es Salaam, said Brazil was already engaged in talks to support cotton production in Eastern African countries of Kenya, Burundi and Tanzania.
Brazil announced in 2013 that it would cancel or restructure almost 900 million US dollars (£600m) worth of debt with Africa where Tanzania, oil- and gas-rich Congo-Brazzaville, and Zambia were among the 12 African countries to benefit.
Congo-Brazzaville owes the most to Brazil - 352 million US dollars - followed by Tanzania ($237 million US dollars) and Zambia ($113.4 million US dollars).
The other countries to benefit are Ivory Coast, Gabon, Guinea, Guinea Bissau, Mauritania, Democratic Republic of Congo, Sao Tome and Principe, Senegal, and Sudan. Brazil, one of five members of the BRICS emerging nations group and with a GDP of 1.796 trillion USD in 2016, is the world's seventh largest economy.
The BRICs countries - comprising Brazil, China, India and Russia - are now Africa's largest trading partners and its biggest new group of investors. BRICS-Africa trade is seen eclipsing $500bn by 2015, according to Standard Bank.