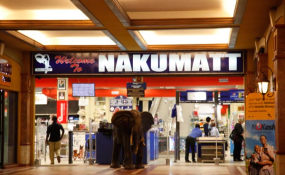 Photo: Rachel Mabala /Daily Monitor
By Brian Ngugi
Trade Principal Secretary Chris Kiptoo says he is aware of ongoing talks towards a partnership between troubled retail chain Nakumatt and rival Tuskys.
However, neither Nakumatt nor Tuskys have confirmed reports of a deal between the two.
The retailers were yet to respond to queries on whether the deal is a merger or a buyout as at the time of publishing of this story or the monetary value that would be involved.
Nakumatt had earlier this year opened government-mediated negotiations with its creditors, aiming to resolve a debt crisis that has pushed it to near collapse.
"I do not know the exact nature of the agreement reached between Nakumatt and Tuskys. As far as I am concerned these are private commercial transactions which we have no objection to as long as they done within the law," Mr Kiptoo told the Business Daily today.
The Competition Authority of Kenya (CAK) on its part says it is yet to receive an application from the two retailers on a partnership.
Failed to woo investor
Mr Kiptoo had in June said Nakumatt's failure to attract a deep-pocketed investor by March this year had left its owners with two tough options - to liquidate the business or significantly restructure its operations to keep it afloat.
The Trade PS, however, had maintained that Nakumatt's private ownership meant that it had to independently reach an agreement with its bankers and suppliers - who are owed billions of shillings - with the State merely acting as a mediator.
"The situation is not good. The government is not a Nakumatt shareholder, but my involvement is to see how we can bring all parties to reach an amicable solution," Dr Kiptoo said in June.