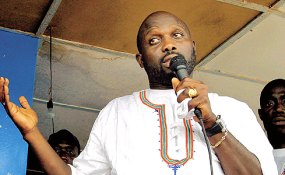 Photo: Daily Nation
By E.J. Nathaniel Daygbor
Thousands of residents in Lofa County have welcomed opposition Coalition for Democratic Change (CDC) presidential candidate Senator George M. Weah and his running mate Sen. Jewel Howard-Taylor.
Lofa County is presumed to be ruling Unity Party (UP) presidential candidate Vice President Joseph Nyumah Boakai's political stronghold. "Some have said that this is their stronghold. But today, this huge gathering of people, some of whom have been here since this morning, can attest to you that we love you. We have followed your records for years and we can say here today, that you are the most qualified candidate to succeed President Sirleaf in this election," said Joseph Kollie on behalf of residents in in Salayea District.
The CDC stormed the county last week, visiting some of the major towns and villages during a campaign tour there. The visit extended to Zorzor, Kolahun and Voinjama City where Mr. Weah and Mrs. Taylor were gowned by traditional chiefs and elders for [their contribution to] peace in Liberia.
Earlier, citizens who assembled at the bridge connecting Lofa and Bong in Salayea, told Sen. Weah and his entourage that they strongly believed that the CDC can better lead Liberia after President Ellen Johnson - Sirleaf leaves office.
Joseph Kollie, speaking on behalf of residents in Salayea District, lamented that for more than 12 years, the UP - led government has fooled "us." Mr. Kollie complained to Mr. Weah that the UP government promised residents of Lofa on many days that their roads would be fixed.
Having voted the party with the hope that the UP government would have fulfilled those promises, he claims that the government failed to give its citizens in Lofar better roads and better life for 12 years.
During the meeting with Mr. Weah, residents of Salayea District named the former soccer star "Human Magnet" and "Kolubah" for his ability to command a huge following wherever he goes.
Before arriving in the county, Senator Weah and his running mate Senator Taylor held several community engagements with motorcyclists and marketeers in Gbarnga and other villages in Bong County where he assured them his commitment to better the lives of his people if elected to the Presidency of Liberia.
While in Lofa, Senator Weah continued his message of reconciliation and a lasting peace in every village and town that he visited. He stressed that he is the only candidate that has the charisma to unite the country and better the lives of its citizens.
"I have repeatedly said to my supporters across this country and the media that my singular aim of joining politics is to transform the lives of my people and unite my country. For twelve years, they held you in captivity," Mr. Weah said.
Under his leadership, he says Liberians will no longer starve, repeatedly promising them better life with abundant opportunities. Senator Weah vows to prioritize road connection in Lofa, stressing that only a better road connection can restore the county's record of being "the food basket" of Liberia.
He also told the citizens of Lofa that his administration will embark on rigorous reforms in the healthcare and education sectors across the country. "This is the time that we must stop the Unity Party (UP). Under our administration, we will promote better education across Liberia. We will pay the WAEC fees for all students across Liberia. My administration will also ensure that our healthcare services are accessible and affordable to every citizen across this country," he said.
Mr. Weah dreams of a Liberia where government will be footing most of the bills for patients, and a country where people will no longer die as a result of their inability to receive better healthcare service for curable diseases.
Under a CDC administration, Mr. Weah says government will do everything to empower its people and make the country a better place for all. Mr. Weah who has had controversial voting stories in past elections, has used the occasion to educate voters here on how they should cast their votes on 10 October. He encourages Liberians to turn out in their numbers to vote for him at the 17th spot on the ballot paper, in order to stop the UP-led government from succeeding itself.