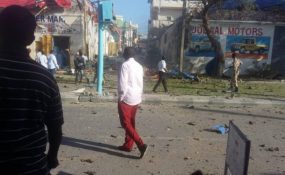 Photo: Shabelle Radio
Unidentified gunmen thought to be Al shabaab assassins have shot and killed a local district official in Mogadishu on Sunday, as insecurity concerns continue to grow in the capital.
Unknown gunmen assassinated Foos Mohamed Hussein working for Hamar-Jajab district administration as village chief, which is part of Benadir region.
Late Hussein was shot dead inside her house in the early hours on Sunday morning by two men armed with pistols, who immediately escaped from the crime scene before Police arrived.
No group has claimed responsibility for the murder of the district official, however, Al shabaab, a militant group-linked with Al Qaeda often carry out such killings in Mogadishu.