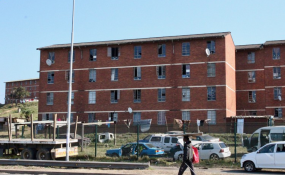 Photo: Nomfundo Xolo/GroundUp
press release
Minister of Police, Mr. Fikile Mbalula would like to congratulate the hard working Police men and women in securing a life imprisonment conviction of Mxoleleni Bhani (28). Mxoleleni Bhani is imprisoned for killing Sipho Ndovela, on the 18th May 2015.
"Our detectives have done a great work, when I visited Glebelands Hostel on the 15 September 2017, a dangerous criminal was being sentenced to life imprisonment. It took our courts two years to imprison this criminal. This must tell our people that justice will be served no matter how long it take." Mbalula said.
Mr. Sipho Ndovela (35) was at the Umlazi court premises when he was approached by the accused. The accused drew out his firearm and fatally shot the man before fleeing, the victim sustained seven gunshot wounds to the body.
"Surely this thug was not working alone, he might have just been a hit-man (INKABI), and therefore I expect crime intelligence to double their efforts in arresting the mastermind of these killings. This killer was a mere 27 year old, a youth, who has given up his life to criminality. Young people must do everything in their power to equip themselves with education and try to live an honest life," Mbalula added.
The Provincial Task Team arrested Mxoleleni Bhani (27) on 6 August 2015, while he was appearing for murder and possession of unlicensed firearms and ammunition in the Umlazi Magistrate Court. Mxoleleni Bhani was also linked to an attempted murder case that was reported at Glebelands Hostel o the 11 June 2015 where a 40-year-old man was shot and wounded.
"I am more than confident that other cases that are currently in court will also bear similar results. Our communities must work and trust the police. The police are doing their outmost best in maintaining law and order in our country," Mbalula said.
Minister of Police, Mr. Fikile Mbalula, hopes this sentence will bring closure to the family and friends of Mr. Sipho Ndovela, now that justice has been served. Minister Mbalula congratulates the Police once more for the sterling work they have done and continue to do.