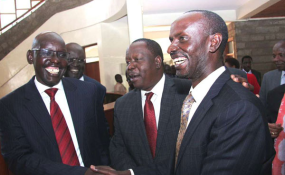 Photo: Kanyiri Wahito/The Nation
By Ouma Wanzala
Tough punishment awaits teachers found guilty of abetting cheating in this year's national examinations, the government warned as it insisted that the school calendar will not be altered because of the repeat election.
Education Cabinet Secretary Fred Matiang'i on Monday met examination officers at the Kenya Institute of Curriculum Development (KICD) and told them not to entertain any form of malpractices.
Any officer found guilty of encouraging irregularities will be liable to a fine of Sh5 million or a five-year jail term, said the exams council in a statement.
"As such all monitoring officers must conduct themselves professionally during the monitoring exercise to guard against breaching any of the rules and regulations," the Kenya National Examinations Council (Knec) said in a brief.
TIMETABLE
The brief advises officials who encounter suspected cases of irregularities to collect relevant information and evidence, which could be used in a court of law or the National Examinations Appeals Tribunal.
Form Four candidates will sit for the practical exams -- French (oral and Braille), German (oral), Arabic (oral), Kenya Sign Language (practical skills), Music practical, building and construction and home science on October 23, ending on November 3.
According to the timetables already sent out to schools, the Kenya Certificate of Primary Education (KCPE) examination will begin on October 31 and end on November 2, while KCSE theory papers will start on November 6 and end on November 29.
"Some of the issues that have been raised in the past with regard to the conduct of monitoring officers include harassment, disturbance, and disruption of candidates when examinations are in progress, issuing of contradictory instructions without the express authority of Knec and soliciting and acceptance of bribes from head teachers, teachers, supervisors, candidates, parents or other such parties," the brief added.
POSTPONE
If a monitoring officer spots any malpractice, they will be expected to get another party to commit themselves in writing as having witnessed it.
This year, candidates will also be able to appeal against decisions of the council to withhold, nullify or cancel examinations.
The appeals must be made by the affected institution while the candidate will appeal to the tribunal through the county director of education and in cases where the applicant is a minor, it will be made by a parent or guardian.
ELECTION
Speaking to journalists after attending the meeting, Dr Matiang'i ruled out the possibility of postponing the examinations despite signals that the repeat presidential elections may be pushed forward.
He said he hadn't received any communication from the electoral commission on a possible change of dates.
"We like dealing in a formal way, the Independent Electoral and Boundaries Commission (IEBC) has not communicated to us of any date change regarding the elections.
"If they decide to change the date, then we will come back to the public, but what I can assure you is that the examination calendar will not change," he said.
SECURITY
Dr Matiang'i said President Uhuru Kenyatta had directed the ministry to ensure that the examination calendar is not affected in any way.
"We are doing all we can to ensure that the examinations are carried out as scheduled.
"We will provide all the required security to our children to ensure they sit their examinations," the CS added.
The Kenya National Union of Teachers (Knut) Secretary-General Wilson Sossion, speaking at the same event, said national examinations programmes should not be politicised.
"For any nation, children come first. The dates as set out and as outlined should not be altered for whatever reason," Mr Sossion said, adding that the candidates had been preparing for the exam for years and it would be unfair to disrupt the schedule.
"Whether there are changes on the election dates, we will stand to defend the exams calendar. The two events are independent. That is where we are and that is our position," Mr Sossion said.
CANDIDATES
Nasa leader Raila Odinga early this month called for the postponement of the exams by two weeks to allow for the election.
According to the opposition coalition's presidential flagbearer, there is nothing wrong in adjusting the exam timetable to enable "an important national exercise such as an election" to be conducted.
He said pushing the exam dates forward would not "make the students die".
A total of 1,003,556 candidates will sit for KCPE while 615,773 will sit for Kenya Certificate of Secondary Education (KCSE) in November.
A total of 5,916 examiners have been identified for KCPE and 21,828 examiners for KCSE.