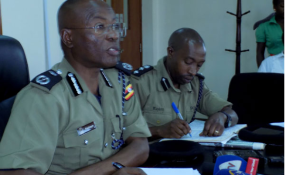 Photo: Joseph Kato/Daily Monitor
By David Owori
Another police officer has died after being stabbed and his taken by suspected thugs in Busia District.
Constable Daniel Mayende was attacked on Sunday night at Kayembe Check Point in Sofia village in Busia Town located Uganda -Kenya border while on night duty.
"He was stabbed by suspected robbers and later died at the hospital where he had been taken," the district police commander, Mr Ezra Tugume Mr Tugume said.
Mr Tugume said they have launched investigations into the incident.
"We have started the investigations to find out the motive behind the murder and also to recover the missing gun," he said.
Mr Patrick Tabuley, a resident said the suspected thugs attacked the officer when it was raining.
"It was heavily raining and yet deceased was guarding the place alone. The robbers overpowered him," he said.
Police officers at the scene told Daily Monitor that four suspects linked to Allied Democratic Forces (ADF) have been arrested.
"We have arrested four suspects in connection with the attack and are being held at Busia police station," one of the officer, said on condition of anonymity.
Mayende is the fourth officer to be attacked by suspected thugs and gun taken in just three days.
On Saturday, Hussein Mubiru and Moses Karungi all Special Police Constables (SPC) attached to Mutundwe police station were killed by thugs moving on motorcycles at Denovo Bread Company in Kalerwe, Kawempe Division in Kampala.
The Kalerwe incident happened hours after thugs raided Mponye police post in Kabalagala Division hacked a police officer who was on duty and stole his gun.