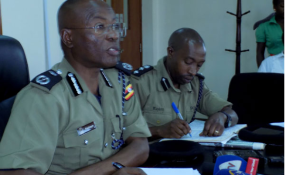 Photo: Joseph Kato/Daily Monitor
By JOSEPH KATO & TOM MALABA
Kampala — Policemen killed during the robbery at Kalerwe, a business hub north of the city centre, had been privately contracted by a bakery firm to escort the transfer of its day's cash collections.
This preliminary findings by investigators has pushed police to do a soul-searching on the scale and spread of indiscipline and litany of unauthorised activities officers engage in to supplement their income.
Two police officers, Special Police Constables (SPCs)Moses Kalungi and Hussein Mubiru, both attached to Mutundwe Police Post, were killed at Kalerwe in a robbery in which an estimated Shs125m was stolen. The two SPCs have been providing daily escort duties at an undisclosed fee to Denovo company cashiers to collect money from all their nine selling outlets within Kampala, and without the knowledge of Uganda Police Force.
Police spokesman Asan Kasingye described this as an act of "indiscipline and endangering other people's lives". The matter, he said, is being investigated by the Police Professional Standards Unit (PSU).
"We do not encourage such escorts; all escorts of cash is the work of private security companies," Mr Kasingye said, adding, "Anybody who wishes to have their monies escorted to or from the bank must engage the services of either private security firms or the bank itself."
According to the spokesman, whoever deployed the two SPCs should have carried out proper assessment of the security threat and coordinated with other security agencies.
Asked why police had to arrest Mr Samuel Kazibwe, the officer in-charge (OC) of Mutundwe Police Post, who had barely been at the post for two months, Mr Kasingye said he ought to have known what the officers were doing even if he had been deployed there for one day before the incident.
The post's Duty Officer, Mr Patrick Emongi, was also taken into custody on Sunday alongside his supervisor.
He added that police would even interview the OC's predecessors to know the period this illegal escort of Denovo company cash had been ongoing.
Mr Kasingye said police were looking at a possibility that the robbery was an inside job involving Denovo workers.
He, however, was hesitant to say that police had challenges in supervising their officers, which some insiders blame for the latest spate of crime in which the Force is losing guns to criminals. The PSU investigations would look into the laxity in supervision if at all it exists, he said.
"We have the bosses of Mutundwe Polices and have instituted an investigation by PSU to find out how these officers were deployed for the duty and whether operational precaution measures were ensured," Mr Kasingye said.
Mr Kasirye Sengozi, the driver of the car in which Denovo cashiers were travelling in, was shot dead.
Police said Nawal Nakatudde and bystander Evaristo Hakiza were still at Mulago Hospital nursing wounds sustained during the shooting on Saturday evening.
According to police, Ms Winnie Namirembe, Ms Angella Nantongo and a one Nakiwala had been discharged.
Police said it had established that Mr Kazibwe and Mr Emongi had been deploying the same officers whenever Denovo, a dealer in bread, collected money from its outlets.
Mr Kasingye cautioned the public to avoid predictability in their businesses amid reports that the company cashiers used the same vehicle [Toyota Noah] to collect money from the nine outlets each day.
"We tell the public to always avoid predictability. Even in town there are people who know which people take money to banks and the time when they do it. You should avoid predictability. Do not use same people, same time, and same vehicles to transport money. At least call the banks to pick it from your place of work," he said.
Police suspect that the killers, who fled the scene with the slain police officers' guns, could have trailed the victims as they picked money from the nine outlets.
The Kalerwe incident happened hours after thugs raided Mponye police post in Kabalagala Division, hacked a police officer who was on duty and stole his gun.
The thugs, who disguised as people who had gone to file a case, hacked Constable Anthony Kasozi's fingers and neck before fleeing with his sub-machine gun rifle.
Police using sniffer dogs traced the suspects to a home in which four men were arrested. Constable Kasozi is currently receiving treatment at Mulago Hospital.
March 2017: Assistant Inspector-General Andrew Felix Kaweesi and two other police officers were killed by unknown assailants about 100 metres from his home in Kulambiro, Nakawa Division, Kampala.
November 2016: Sheikh Maj. Mohammed Kiggundu, one of the former commanders of the rebel Allied Democratic Forces was shot dead at Masanafu, a Kampala suburb. His bodyguard, Sgt. Steven Mukasa was also killed.
January 2016: Corporal Muzamiru Masaba, who was guarding Chris Rwakasisi, former Minister for Security in the Milton Obote II government, at Bunga, a Kampala suburb, was beaten by thugs.
January 2016: Sgt Alex Tibamwenda, who was guarding a judicial officer, was attacked at Naguru Hill and his AK-47 gun taken.
February 14, 2014: Officer in Charge of Kajjansi Police Station, Cadet Assistant Superintendent of Police Joseph Bigirwa, was shot dead by criminals.
February 13, 2014: Special Police Constable Nelson Tugume in Nalumunye near Jomayi Estates was killed in a shootout with thugs.
July 5, 2014: Special Police Constable Aristo Rwegimana attached to Kawempe Police Station was killed by attackers and his gun taken.
August 26, 2013: In Mulago armed attackers shot dead Police Constable Charles Byarugaba aged 26 and made off with his gun. The gun has never been recovered.