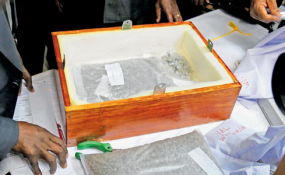 Photo: The Citizen
By Rosemary Mirondo
Dar es Salaam — Government officials will escort the seized diamonds to Antwerp, Belgium where they are also expected to witness the auction that will determine the market value of gemstones impounded last week for undervaluation.
But the diamonds, seized on August 31 at the Julius Nyerere International Airport (JNIA) from a consignment that was about to be transported by Petra Diamonds, are still being held by authorities pending completion of investigations on circumstances that led to undervaluation, the Commissioner of Minerals, Benjamin Mchwampaka told The Citizen yesterday.
The export declaration forms had indicated that the diamonds were worth $14.7 million (Sh33 billion), but when the revaluation was done by a team led by Prof Abdulkarim Mruma from the Geological Survey of Tanzania (GST), it was discovered that the diamonds were worth $29.5 million (Sh66 billion).
A case has already been opened at the Kisutu Resident Magistrate's Court and two government officials from the Diamonds Valuation Unit were charged on September 15 with occasioning loss of Sh2.4 billion to the government.
"The diamonds are still in government's possession. Upon completion of our investigations the consignment will be transported to Antwerp for auctioning," Mr Mchwampaka noted.
When the minister for Finance and Planning, Dr Philip Mpango went to inspect the gem-stones at the JNIA on September 9, this year, he ordered their confiscation because the transporters had flouted the East African Customs Management Act of 2004.
A statement published in the ministry's web-site later that day confirmed that the government had confiscated the diamonds. Petra Diamonds, which owns the Williamson Diamonds Mine in partnership with the government, came out on September 11, denying any wrongdoing.
The company said in a statement that the valuation of the gemstones was, normally, conducted by government officials and not them.
Mr Mchwampaka admitted yesterday that it was true that the valuation was done by the government officials, but the circumstances for undervaluation would be fully determined by the ongoing investigations.
Petra owns a 75 per cent stake in Williamson Diamonds Mine while the government owns 25 per cent.
Meanwhile, shares in Petra Diamonds slumped 7 per cent in yesterday's early morning trade after the miner reported a disappointing set of financial results and warned that it could breach its debt covenants once again.