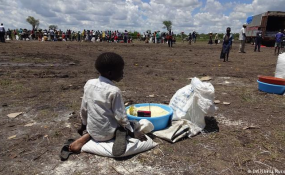 Photo: Sheiler Mysorekar/DW
By Joseph Oduha in Juba
The Association for Media Development in South Sudan (AMDISS) has rejected the order by the regulator for fresh registration of all practitioners and institutions.
The lobby group's acting chairperson, Ms Mary Ajith, said the directive, with a September 20 deadline, was unlawful.
Ms Ajith claimed that the South Sudan Media Authority was only mandated to register the broadcast journalists and their institutions, and not their print or online counterparts.
While issuing the registration order last week, the regulator warned that defiance would invite unspecified but severe consequences.
Political challenges
Ms Ajith further said that the media authority's order was another an attempt at disrupting the work of some media institutions.
She also slammed the regulator for refusing to dialogue with the media institutions.
"We need the media regulator to open doors for dialogue rather than seeing us as enemies," she said.
The South Sudan media environment remains fragile with journalists facing immense logistical, economic, social and political challenges.
The bad situation is made worse by weak laws and legal institutions and the ever present marauding armed groups.