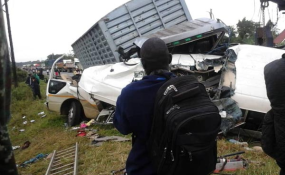 Photo: Daily Monitor
By John Namkwahe
Dar es Salaam — President John Magufuli has sent his condolences to the family of former Deputy Minister and Mpwapwa Constituency MP, Mr Gregory Teu, following the death of his 13 relatives who died in a car accident in Uganda.
The accident happened last night at Lubanda trading centre, about 80 metres from the Fika Salama traffic police check point, near River Katonga Bridge in Mpigi District.
The deceased were coming from a wedding of their relative which took place in Uganda.
"I am extremely shocked and saddened by the reports of the loss of this large number of people. My sympathy to the family of Mr Gregory Teu for the loss, to the family members and all relatives who have been affected by the incident," he said.
He added: "I pray to God to rest in peace souls of all the deceased people and I also wish the victims of the accident who have been hospitalised in Uganda a quick recovery and get back home stronger."
Dr Magufuli further has urged all family members to be patient in this difficult time after the loss of their beloved relatives.
Eye witnesses told our reporter that the accident happened when one of the tyres of the Fuso Truck with registration number UAH 970 P burst and it rammed into Tanzania bound coaster with registration number T 540 DLC.