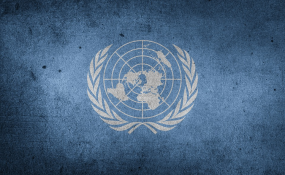 Photo: Pixabay
opinion
By Neal Keny-Guyer, CEO Mercy Corps, and Rebecca Wolfe, Director of Evidence and Influence - Peace and Conflict, Mercy Corps
Any views expressed in this article are those of the author and not of Thomson Reuters Foundation.
World leaders cannot meaningfully address natural disasters and climate change without first cultivating peace
Given the myriad of natural disasters that have wreaked havoc around the globe in recent weeks, it's tempting to argue that world leaders gathering in New York this week for the UN General Assembly should focus on these current disasters as well as mitigating those in the future that will be made worse by climate change.
While it is true and vital that we must consider important policy such as the Paris agreement as well as provide aid to those who are displaced by these tragedies, focusing on climate change alone doesn't capture the scope of the challenges facing humanity that the UN needs to address this week.
The world is grappling with two existential threats: natural disasters compounded by climate change, and violent conflict that has risen to unprecedented levels. Tragically, these forces are increasingly intertwined, and the world's most vulnerable people are all too often affected by both.
Our organization, Mercy Corps, works with people all over the world - including those displaced by disasters. Yet for most of our beneficiaries, climate related issues are only one part of the problem. Conflict has now eclipsed natural disaster as the leading cause of suffering in the world. A record 65 million people around the globe have been displaced from their homes, largely due to violence and war.
The UN's ambitious Sustainable Goals provide a blueprint to address violence and conflict. Included in these goals is Goal Number 16: "Promote peaceful and inclusive societies for sustainable development, provide access to justice for all and build effective, accountable and inclusive institutions at all levels."
In many ways, all the other goals that the UN has set forth are dependent on achieving this one. To put it bluntly, it is impossible to manage natural energy supply or improve water conditions in a country where war is raging. We can't create any meaningful change - including addressing climate change - if we don't first end violence.
How, specifically, do we do that? In recent research we conducted in Afghanistan with Princeton and Yale Universities, young people were offered both vocational training and a small cash grant. These young people showed increased willingness to engage in actions supporting the government over armed opposition groups such as the Taliban.
The study showed that it was the combination of both interventions that was powerful; other groups of young people who were offered only cash or only training did not have the same response. The youth who received both used the cash to help meet immediate basic necessities, which gave them extra time to use what they learned in the training to improve their economic circumstances. As they credit the government specifically, they see that government is addressing what they care about- poverty, unemployment and inequality.
Not only do we know that it is possible to shift support away from violent actors like the Taliban, we also know that on a local level it is possible to build peace. Consider Nigeria's Middle Belt, where violence costs the economy up to $13 billion dollars a year. In another recent initiative, local leaders there recently resolved 522 disputes, largely over grazing and agricultural lands. In turn, increased security contributed to both farmers and pastoralists achieving a 44 percent greater freedom of movement - meaning they could tend to their farms and cattle, as well as get to market more easily.
These types of critical strategies will not create lasting peace without diplomatic muscle, so we are encouraged by the commitment of Secretary General Antonio Guterres and World Bank President Jim Kim on conflict prevention. Since taking office, Guterres has spoken eloquently on the need to do more to end conflict, and President Kim has increased the commitment of the World Bank to work in fragile states. In their report on conflict prevention released this week, the need for this work will take center stage.
Yet reports are not worth the paper they're printed on if recommendations aren't implemented. We therefore urge the World Bank and UN to put forth a call to action for renewed, high-level diplomatic interventions in order to stop the conflicts driving poverty and suffering and push governments to prioritize investments in proven strategies that work at the local level to establish peace.
With that mandate, it is possible that next September we won't be wringing our hands over yet another example of how conflict is destroying lives - but celebrating the ways we have established peace.