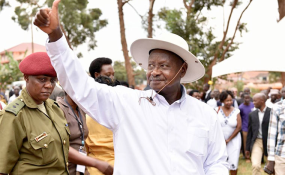 Photo: The Observer
By Monitor Reporter
The Opposition Forum for Democratic Change has said that the proposed lifting of presidential term limits is being engineered by President Museveni to legalise his life Presidency scheme.
Mr Nathan Nandala Mafabi, the party secretary general told journalists on Monday at the party headquarters on Monday that such a move would only drive Uganda to a cliff and it will only take the force of all citizens to pull it "back to safety."
"Here is the problem: The proposed deletion of Article 102 (b) will be the final blow to our political stability because it will deny the country the opportunity for a well-managed political transition," Mr Mafabi said. "It is clear Mr Museveni, who is the engineer and funder of this project is determined to legalise his life presidency instead of just decreeing in the way former President Amin did."
Mr Mafabi said it is sad that some few ill-intentioned elements in the ruling National Resistance Movement are determined to destroy the people's hope and last constitutional safeguard to Uganda's political stability.
He said: "This is not going to be a time for the faint hearted, neither is it time for any Ugandans to remain seated. War is here! Either we are going to fight this war and win it in order to hold together, or lose to traitors and see our country descend into a Somalia or a South Sudan."
Mr Nandala said Ugandans have to rise up in "full force" to defend and protect the remaining aorta of their country's Constitution.
He announced a series of activities including among others organising possessions in support of retaining Article 102 (b) as well as petitioning the Speaker of Parliament, the Inspector General of Government and the Director of Public Prosecutions to investigate possible criminalities in the processes of lifting presidential term limits.
He said party supporters will on Thursday this week assemble at the party headquarters in Najjanankumbi before taking a petition to Speaker of Parliament Rebecca Kadaga.
Mr Mafabi said if Ugandans fail to stop what he termed as rape of the Constitution, every business, social freedoms, democracy and access to equal opportunities will suffer devastating effects.
"We would like to inform the public that amending articles 102 (b) and 26 are intertwined schemes. Lifting age limit will pave way for land grabbing. We therefore call upon all people and institutions who had spoken about land amendment bill not to relax and take a back seat," he said.