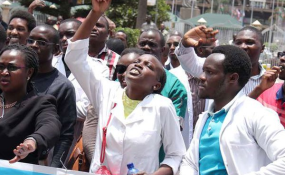 Photo: Dennis Onsongo/Daily Nation
By Maureen Kakah
Doctors have registered their collective bargaining agreement before the Employment and Labour Relations Court.
Through their Kenya Medical Practitioners Pharmacists and Dentist Union (KMPDU), they appeared before judges Hellen Wasilwa, Linnet Ndolo and Nelson Abuodha to have the CBA with county governments and the Salaries and Remuneration Commission (SRC) registered.
However, there are three counties whose CBA were not registered because there were no letters filed in court from SRC while agreements for 44 counties were adopted.
In a letter to the Council of Governors' CEO Jacqueline Mogeni, SRC has asked her not to object to the registration of the CBA in the 47 counties.
Outside the court, KMPDU Secretary-General Ouma Oluga thanked all stakeholders who have been involved in the talks that led to the signing of the CBA.
He also expressed disappointment with the fact that nurses and clinical officers are on strike pursuing their CBAs.
"In this joyous truth, our colleagues are still out there and therefore we urge all stakeholders to expedite their process," said Dr Oluga.
He added: "It is not right that we are always out there on the streets, we are calling for collective responsibility."
According to KMPDU, the doctors' CBA is the first to be registered in the public health sector with the national government.
The union also said it is willing to offer their experience and expertise with CBA matters so as to streamline the labour sector in Kenya.