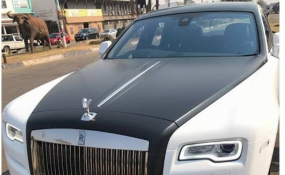 Photo: New Zimbabwe
ZANU PF legislator Mayor Wadyajena has scornfully celebrated the alleged acquisition of a pricey Rolls Royce vehicle by First lady Grace Mugabe's son Russell Goreraza.
The luxury car reportedly arrived in the country Sunday after which images $300,000 the vehicle immediately circulated on social media.
Goreraza, 33, is Grace's son with former Airforce of Zimbabwe staffer Stanley Goreraza. She left the latter and had affair with President Robert Mugabe while the veteran leader was still married to Ghanaian wife Sally Hayfron.
Mugabe eventually married his mistress after Sally's death in 1992.
The Mugabes' children are unashamed big spenders and, for good measure, prone to scandal too. Grace recently attracted global infamy after a violent run-in with a model who was shacked up with her younger two sons at an upmarket South African hotel.
Unfazed by the scandal which forced their mother claim diplomatic immunity to evade prosecution for allegedly battering the model with an electric cable, the boys quipped "we be rolling while they be talking".
And like his two younger brothers, Russell Goreraza also has a reputation for the fast life. He has a chequered reputation and was previously found guilty of culpable homicide after he ran over and killed a pedestrian in central Harare.
According IOL, after the Rolls Royce landed at Harare International Airport, Goreraza reportedly told friends that his next vehicle, due to arrive in the Zimbabwe capital shortly, is an Aston Martin.
Not overly impressed though, was Gokwe-Nembudziya Member of Parliament Justice Mayor Wadyajena.
The legislator tweeted a picture of the Rolls Royce with the caption, "Only the connected thrive in a country where youth are begging for opportunities to earn an honest living. @matigary #GuessWhosWhip!"
The remark attracted mixed reactions from followers with most finding it absurd for the First Family and its favoured to continue living luxurious lives while over two thirds of Zimbabweans live in poverty.
Tajamuka/Sesjikile said, "This is like owning a private jet and using a dust road as a landing strip" in apparent reference to the absurdity of purchasing luxury cars in a country where roads are impassable due to potholes.
James Suave questioned how Goreraza managed acquire such a vehicle in Zimbabwe's tanked economy.
"Rolls-Royce Ghost (2017), MRSP of $280k before import taxes in Canada. What kind of career can get you a weapon like this in Zimbabwe?" he asked.
Only 20 percent of Zimbabwean adults are formally employed and most of those in jobs are also poorly remunerated and often go for months without pay.
However, some were quick to remind Wadyajena, who owns a couple of top-range vehicles, of his own luxury splurges and accused him of also corruptly benefitting for the ruling Zanu PF party's patronage system.
Said Yettobecaptured, "It's your party which is to blame. You simply saying it to expose an opponent. What happens to gold in Zimbabwe, especially Midlands?"