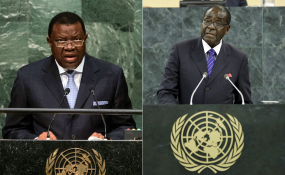 Photo: allafrica.com
By Munyaradzi Huni
President Mugabe will join other Heads of State and Government as the General Debate to the 72nd Session of the UN General Assembly officially opens today. The President, who is being accompanied by Foreign Affairs Minister Simbarashe Mumbengegwi and Industry and Commerce Minister Mike Bimha is expected to address the UN General Assembly this week.
Zimbabwe has taken a clear stance on the UN, maintaining that the body should be more democratic, representative, accountable and development-oriented.
Zimbabwe identifies with the African position known as the Ezulwini Consensus on UN reforms.
Debate will focus on the theme: "Focusing on People: Striving for Peace and a Decent Life for All on a Sustainable Planet".
The agenda items include education, environmental conventions, and social development.
The President of the 72nd session of the UNGA, Miroslav Lajcák, identified the following six overarching priorities for his tenure following his election; making a difference in the lives of ordinary people, prevention and mediation for sustaining peace, migration, political momentum for the SDGs and climate, human rights and equality, including equal opportunities for genders and quality of events organised by the Presidency.
A number of parallel events will take place at the opening of the 72nd session of the UNGA, including Global Goals Week 2017 and Climate Week 2017.