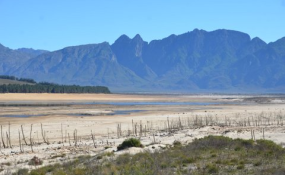 Photo: Tami Hultman/allAfrica
Many Capetonians are failing to adhere to level 5 water restrictions, with only one out of two limiting their daily personal water consumption to 87 litres, the City of Cape Town said.
The City of Cape Town announced level 5 water restrictions earlier this month.
Mayoral committee member for water and waste services Xanthea Limberg said, in a statement on Monday, that a large percentage of residents were seemingly not bothered by the restrictions and increased water tariffs.
"[Therefore], our recently implemented Level 5 restrictions also look at ways to force usage down among water users who are not changing their behaviour," Limberg said.
"This is especially important as we head towards what we are all expecting to be an incredibly difficult summer season for 2017/18."
City-wide consumption on Monday had increased to an average of 624 million litres per day, compared to 614 million litres a week ago. This is 124 million litres above the City's 500 million litres per day target.
The City said its drought efforts were centred around reducing collective water usage to 500 million litres per day, while bringing on board alternative water sources which would produce an estimated 500 million litres of water per day.
The alternative water sources include desalination, wastewater-reuse and groundwater.
"[This will] see the city through as much of summer 2017/18 as possible," Limberg said.
News24