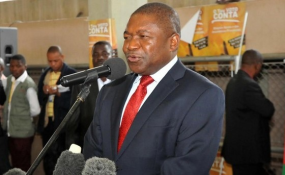 Photo: Angop
Maputo — Mozambican President Filipe Nyusi on Monday urged the directors of technical and professional schools to stand up for honesty, and avoid any acts of corruption in their institutions.
Speaking in Maputo at the opening of a national meeting of directors of technical institutes, Nyusi said the directors are viewed as "vectors of change", who should be ensuring good quality training oriented towards the market, and capable of promoting self-employment and an entrepreneurial attitude.
"It's a fact that changes can be noted in your institutions", he said. "However, we are concerned that some institutions are still giving technical and professional courses without meeting the necessary requirements. We are also concerned that some institutions, although they enjoy the conditions for offering good quality services, remain inefficient".
He warned that corruption could have a disastrous impact. "If the institutes practice corruption, that will ruin the young people who will lead this country tomorrow", said Nyusi. "They will be training corrupt professionals for tomorrow".
He wanted the institutes to train technical staff able to diagnose the problems and needs of the country, and identify practical solutions. Staff with these skills could contribute greatly to the development of Mozambique.
Solutions to the country's problems should be applied by Mozambican technical staff following the rules learnt in their years of training, as a way of eradicating dependence on foreign labour. "Providing more jobs for Mozambicans "will contribute to reducing social tensions and to increasing purchasing power and consumption", he stressed.
"We have to train people who, when they arrive at their place of production, make a difference", Nyusi added. He wanted them to be "more added value and not more headaches".
The technical and professional schools, he insisted, should train students who know how to think for themselves rather than just reproducing the ideas of others.
Nyusi called for the reorganization and empowerment of professional training in order to relaunch the Mozambican economy and achieve sustainable development.