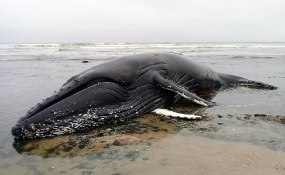 Photo: The Namibian
By Adam Hartman
A female humpback whale was stranded about a kilometre north of Henties Bay on Sunday night.
Estimates of locals who approached the animal during low-tide are that it was about ten metres long and still alive when spotted early yesterday morning.
According to representatives of the Namibian Dolphin Project, the pressure of the whale's heavy soft body on its organs as it lay on the sand where it had beached, may have caused organ failure and by midday yesterday it was dead.
According to the project, which studies whales, dolphins and turtles along Namibia's coast, humpback whales migrate along the Namibian coastline between their feeding grounds in the Antarctic and breeding grounds off west Africa.
Although one of the most studied whale species, thanks to their global distribution, ease of identification and fascinating songs, there is still much that is not yet known about humpbacks.
There have been several sightings of humpbacks off the central coast over the past few weeks as the creatures return to the Antarctic.
"We are still assessing the situation as to its details and why it got stranded," a project representative said yesterday.
Fisheries ministry officials were not aware of the beached whale by yesterday afternoon.