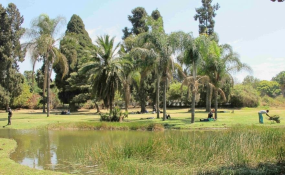 Photo: Supplied
By Ishemunyoro Chingwere
The City of Harare is pressing ahead with the proposed sale of a portion of the Harare Gardens for the expansion of Monomotapa Hotel to encompass a Conference Centre, Car Park and related ancillary facilities. The proposed sale which has been on the cards for over a year had been affected by bickering in council chambers but in July the matter was put to vote with a majority of the councillors voting in favour of the deal which will see the City pocketing $1,76 million.
The deal will see the hospitality group, African Sun Ltd, getting about 2, 205 hectares of the Harare Gardens for the construction of a $25 million facility while the City will be left with about 17 hectares.
In a notice published yesterday, the City - in terms of Section 49 (4) of the Regional, Town and Country Planning Act (Chapter 29:12) invited individuals objecting to the sale to lodge their reservations within 30 days.
"Notice is hereby given, in terms of section 49 (4) of the Act, of an application to change the reservation of portion of the remainder of the Harare Gardens, Harare from Public Open space and Recreation to licensed residential (Hotel and Conference Centre) and Car park.
"The property in question which is owned by City of Harare, is zoned Public Open Space and Recreation in terms of the operative City of Harare City Centre local development plan number 22. The proposal seeks to carve-off a portion of the property measuring approximately 2 205 hectares for the expansion of Monomotapa Hotel.
"Any person wishing to lodge objections or make representations must lodge them, in writing with the undersigned within 30 days from the date of the first insertion of this notice," reads the public notice.
The proposed sale is a follow up to a Memorandum of Understanding (MoU) signed in 2010 between African Sun as a founder for the joint venture agreement for development of a shopping mall and expansion of the Crowne Plaza Monomotapa Hotel.
As previously reported by this publication, in terms of the envisaged joint venture, three floors of parking, commercial shopping facilities, commercial offices, executive residential apartments and the expansion of the hotel were going to be undertaken.
Addressing shareholders in June this year, ASL's major shareholder, Brainworks Capital chief executive Mr George Manyere said the group was committed to the project which will give the hotel a competitive advantage against regional and international peers.
"It is a $25 million investment and it is a development we are committed to," Mr Manyere told shareholders in June.
"We are still in discussion with the City of Harare to get that land near Monomotapa for the expansion project," he said.