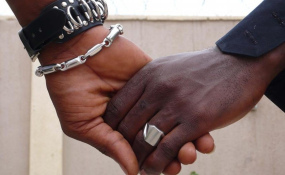 Photo: Deutsche Welle
By Sakaria Kadhikwa
Windhoek — The presiding bishop of the Evangelical Lutheran Church in Namibia (ELCIN), one of the largest Christian denominations in the country, during his sermon on Sunday in Windhoek emphatically rejected same-sex marriage and condemned the Olufuko initiation.
Bishop Shekutamba Nambala, addressing a packed Hosianna Parish in Windhoek, said while ELCIN respects the rights of every person it does not condone same-sex marriage. As such it is not prepared to wed or bless gay marriages.
"We need to be given convincing reason what the purposes of such marriages are," said Nambala.
He said God has created marriage as a vehicle of generational renewal and childbirth, and it is from that perspective that ELCIN views marriage and will only allow a marriage between a man and a woman and not those between same-sex persons.
"There is no procreation in same-sex marriage," observed the bishop, saying marriage as established by God has the main purpose of ensuring continuation of the human race.
He reiterated ELCIN's stance regarding the Oshiwambo traditional Olufuko initiation, saying the church does not condone the practice. Olufuko is a preparation of girls from childhood to adulthood through an initiation that supposedly toughens and trains them to be ready for what is expected of them in their adulthood.
Organisers of the Olufuko Cultural Festival, held at Outapi annually, have defended the practice, saying it - contrary to popular belief - denounces forced marriage and sex before marriage.
But Nambala noted: "We have not been convinced about its usefulness - instead we are seeing contradictions in relation to the practice when viewed from a legal perspective. The people who are initiated through Olufuko are regarded as ready to get married, but at the same time the law is clear that minors cannot get married."
Organisers of Outapi's Olufuko festival maintain that girls who undergo the initiation during the festival are indoctrinated with the ethos and values of abstinence from sex before marriage, as well as the dangers of teenage pregnancy and the importance of education.
There have also been calls by organisers to include in the festival programme the education of boys on the values of respecting women, in light of many young Namibian men killing their ex-girlfriend whenever the relationship goes sour.
"It should be clear that Olufuko is not anti-Christian and will not be anti-Christian because those who get initiated are Christians. I think it is only a misunderstanding especially from the ELCIN church. The accusations against Olufuko are baseless because Olufuko is just a cultural practice of our ancestors," Nashilongo Ananias, the chairperson of this year's Olufuko Committee told New Era during the preparation of the festival that ended a couple of weeks ago.
Nambala said when a girl is initiated through Olufuko the practice denotes that such a person has gone through traditional marriage rites and cattle are slaughtered and beer is brewed for people to enjoy "the wedding".
Nambala also hinted that parents who took their children to the Olufuko festival may in the future be stripped of church privileges, including receiving holy communion.
Coupling the two issues, he urged the youth who are making unplanned children to ensure that they take care of their offspring and not take them to their parents, [or grandparents].
"If you make a baby ensure you can take care of it and do not make your child or children a burden of your mother, or your parents," pleaded Nambala.
He reminded the congregation that these days the older generation is on its own and no one among their children is prepared to take care of them.
This, he said, is especially true when it comes to expectations that their children can send them one of the
grandchildren to help as caretakers.
Thus Nambala urged the church to find solutions to these issues currently facing the society and not always wait for the government to take the lead.