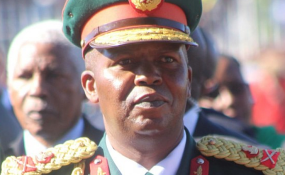 Photo: Lesotho Times
interview
Last week's assassination of Lesotho Defence Force (LDF) commander Lieutenant-General Khoantle Motšomotšo by his subordinates plunged Lesotho into yet another security crisis.
The killing prompted the Southern African Development Community (SADC) to dispatch a ministerial fact-finding mission to assess the security situation and to hold meetings with all key stakeholders in the country.
Lesotho has a long history of instability which has been partly caused by the LDF's outsize role in the country's body politic.
In this wide-ranging interview, Defence and National Security Ministry Principal Secretary, Colonel Tanki Mothae, talks to Lesotho Times (LT) Reporter Pascalinah Kabi about the events of last week and other related issues.
LT: What is the mandate of the Ministry of Defence and National Security?
Col Mothae: The Ministry of Defence and National Security's mandate emanates from Lesotho's constitution reinforced by the Defence Act which states that the ministry's responsibility is to provide an administrative leadership to the LDF and the National Security Service (NSS).
As the administrative component, the ministry's role is to ensure that the LDF is adequately financed, equipped, trained, well-managed and accountable to the civilian authority. The same applies to the intelligence services.
However, parliament can only release resources if they are satisfied that we are operating according to our mandate.
LT: Is it feasible for the civilian government to ensure that both the LDF and NSS are under their leadership?
Col Mothae: It is doable and manageable because the two organisations are governed by their own laws - the NSS Act and LDF Act. Over and above that, we have the constitution and the interpretation of the supreme law is guided by the two acts. So, it is a must that each and everybody complies with these two instruments.
Now when you talk about whether or not it has been a simple exercise to carry out as a government and the security services, it has been very easy. Just after the 1993 elections, Lesotho did not have a standalone Ministry of Defence and National Security but then in 1994 the government of Lesotho established this ministry in order for all the defence and security issues to be well coordinated while also creating a platform where the civilian authority could be able to now interact, as prescribed by the law, with these particular departments. From there on, it was also found that the ministry but had to put in place certain legal instruments guiding the very same relationship, different activities and at least indicate clearly the different roles of these particular departments hence the enactment of the Lesotho Defence Act of 1996 and Lesotho National Security Service Act of 1998.
These are the instruments governing those two institutions, key in the fulfilment of the security and defence of this country. But then even around that time or before, there were a bit of misunderstandings between the government and these two organisations, probably due to a number of factors.
First of all, we look back on how the LDF was established as a Police Mobile Unit in the 1960s, what role it played in the political environment of this country; including the very same NSS.
For these institutions to move away from that habit, it was a little difficult but it had to be done. That is why these instruments were very critical for the management of these institutions and the government to now understand how their relationships were to be managed.
The ministry was established comprising of LDF and NSS members; including the civilian authority like this position I occupy trying to bring together these two worlds. But, of course for me, it is not just being a civilian because I left the military although, once a soldier always a soldier.
1998 was probably one of the most challenging years for us as a country, you can recall all the events including the opposition parties' refusal to concede defeat after elections and the disturbances that followed including the intervention of SADC. The government and other stakeholders agreed to sit down and find out what makes or leads us to quarrel after every election.
If readers recall, from the 1960s, Lesotho has never been peaceful after elections. It might be at times mild but it was always a problem, even just the conceding of a defeat. Of late, the losing politicians are accepting defeat and handing over power but that was not the norm in Lesotho in the previous years until after 1993. So there was this interim political authority which was meant to look into a number of things like reforms, in particular trying to reform electoral system from first fast the post to mixed member proportional representation.
But even after that, there have always been challenges. Whenever there is a challenge, elements of security agencies were involved probably because of selfishness or ignorance of the fundamental reason for their existence as a military and intelligence agency; particularly the military.
There are constitutional roles that the military and the NSS have to play; well prescribed in the two legal frameworks I mentioned earlier and it is a simple thing - follow it and understand your responsibility.
The military in a democratic country should always be under civilian authority. Security is very critical because it ensures stability in the country which, in turn, attracts foreign investment with the focus being on eradicating poverty and creating employment.
LT: What's your take on the events of last week given that the Justice Phumaphi Commission of Inquiry had observed that there was polarisation in the LDF?
Col Mothae: The events of last week are very unfortunate and unacceptable because the perpetrators of the assassination were well trained officers.
There have been a number of interventions before the Phumaphi inquiry. SADC forces were here in 1998 and initiated LDF officers in a training programme as they tried to reshape the military. We developed the first ever strategic plan for the LDF which I was part of to restructure the agency. Along the road to implementation, something wrong happened. I don't know if any one person can be apportioned the blame. However, as Basotho we have developed a bad tendency of not respecting the rule of law or systems and structures that we have established.
I am saying that because the military is at times used by some politicians as their constituency. Some members of the military allow themselves to become that constituency. As a result, when an outcome of elections does not favour their expectations, they try to intervene thereby destroying the cohesion of the military.
Politicians need to understand that the military is not a political constituency. Politicians make a lot of good pledges in their manifestos, yet upon attaining power focus on controlling the LDF command for their own ends.
Now after initial restructuring, there was another continued process where Indians came to Lesotho; training us in a number of areas including the establishment of Special Forces and commandos. We had lot of officers that went to India, South Africa, Zimbabwe, Zambia, Nigeria and so many other African countries for training.
Clearly, LDF members understand their role and know the international standards for the conduct of military officers. But something happens along the way to change their minds.
Fortunately, not all LDF members are like that. LDF members are very loyal to the government of the day but at times you find that their leaders have a problem probably because of their interactions with politicians.
After all these interventions, we still had problems in 2014 and those were the last challenges I had expected. I thought there was an understanding that Lesotho is just not operating in isolation, it is a member of the international community.
We are experiencing again situations that were the norm before 1993 and topping the agendas of SADC summits. Whether we like to admit it or not, the events 30 August 2014 LDF operation was an attempted coup. There is no way the military can get out the barracks, become rampant without such an operation being sanctioned by the Minister of Defence and National Security who was Prime Minister Thomas Thabane at the time. The operation was not conducted at the instruction of the prime minister. In fact, some very senior officers came to look for him at the State House.
When Lesotho held elections in 2015 which brought in a new government the military's involvement in politics was very evident.
Soldiers who did not toe the line were accused of mutiny against the army command. The mutiny allegations were ludicrous because they meant Lieutenant-General Maaparankoe Mahao had rebelled against himself.
The Phumaphi Commission had a lot of good recommendations, yet the implementation became a problem because there was no compliance. We are now under a new political leadership. The issue now is whether people understand what we are trying to do and their roles.
Maybe someone else is pursuing another agenda.
The Ministry of Defence and National Security still has a responsibility to ensure the military conforms to rules, regulations and laws of this country. Like I said, LDF members are loyal but there are some very dangerous elements who want nothing to do with peace.
We cannot leave the situation like that. We have to ensure peace in this country and ensure no more army commanders are killed. Otherwise, the government may find it difficult to appoint a commander. Appointees might refuse for fear of being killed but this is a sacrifice a soldier has to take.
LT: Do you think the situation in the army is conducive for the implementation of SADC decisions and uprooting the lingering rebellion in the agency after the removal of Lt-Gen Tlali Kamoli?
Col Mothae: I think the removal of Lt-Gen Kamoli was not really a solution because he was removed by the people who have made him who he was. The lingering issue is the implementation of SADC decisions which entails removing LDF elements suspected of criminal offences and treason as well as those who had a hand in the killing of Lt-Gen Mahao.
That has never happened. Brigadier Bulane Sechele and Colonel Tefo Hashatsi were fingered in that report, yet they killed the commander and were also shot dead. Now the question is, who were they colluding with? Indeed the officers who came into the commander's office were three, one remained in the boardroom and is now in police custody helping police with investigations.
Clearly they were not alone; there were others who came and started driving off with Hashatsi's vehicle and that same person is now in the military detention. He must be handed over to police custody. This tells you that they were not alone. We have been aware that there are a number of things that were done outside the barracks, some inside and that is being closely followed by the current command and the police.
Commanders have given a very clear message "surrender yourselves because we know you, even those who are not part of the military." It is not just a statement. Investigations are ongoing and more will be disclosed as investigations progress.
The actions of last week were treasonous.
As for the situation in the military, one can never state with certainty that the situation is calm because it is unpredictable at times. However, the situation is certainly under control. The commanders are in charge, but there must be a complete stabilisation and that is when we can at least say we are fine. The environment needs to be improved urgently for us to be able to implement SADC decisions and we are going to implement them. It is not by choice but a must because that is where they picked up challenges. Reforms are very critical for this country and once completed, it will take us a few years to be truly stabilised and peaceful.
LT: How are you going to use your military experience and knowledge on regional security affairs to help professionalise the army and ensure that Lesotho fully regains sustainable suitability?
Col Mothae: As a matter of urgency, I think what I need to do now is to sit down with the security sector and look into the challenges they are faced with. Once we are able to identify that we will be able to come up with solutions to such challenges. I do not believe in having permanent challenges because they are moving targets which we can always solve.