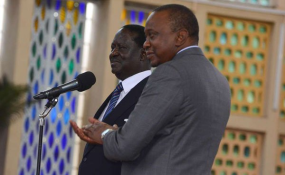 Photo: Jeff Angote/The Nation
By Charles Omondi
Kenya's Judicial Service Commission (JSC) has defended itself against sustained attacks by the political leaders and their supporters.
Addressing a live television press conference in Nairobi on Tuesday, Chief Justice and JSC President David Maraga said members of his team were ready to pay the ultimate price in the defence of the rule of law.
Judge Maraga re-affirmed the independence of the Judiciary and the commitment of the members to the execution of their mandate.
Act on threats
He expressed dismay that the Inspector General of Police, Mr Joseph Boinet, had failed to act on threats to the lives of the judicial officers.
The Judiciary has come under sustained attacks by the ruling Jubilee coalition leaders and their supporters since the annulment of President Uhuru Kenyatta's August 8 re-election.
Earlier on Tuesday, hundreds of Jubilee supporters held demonstrations outside the Supreme Court in Nairobi, accusing the country's top court of "stealing their victory".
Paralysed transport
Waving placards, the demonstrators, mostly youth, accused the judges of rendering an illegal judgment.
Other demonstrations were also held in the Jubilee in central Kenya and the Rift Valley, the respective homes of President Kenyatta and his deputy William Ruto.
The demonstrators paralysed transport on sections of Kenya's main artery from Nairobi and the border with Uganda.