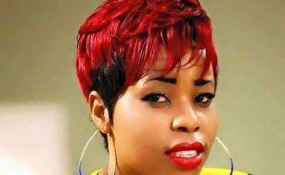 Photo: The Nation
By Nation Team
An actress died while giving birth in Kilifi County on Tuesday as health services in public hospitals around the country remained grounded due to the clinical officers and nurses' strike.
The nurses' strike has lasted for 106 days.
Ms Maureen Wanza had been rushed to a private clinic after developing complications.
"It was an emergency. While at the facility, her situation worsened as she gave birth. She bled to death. Unfortunately, her baby also died minutes later," Ashiners Films CEO Ann Hamburg said.
GOVERNORS
She acted in local TV productions Sumu and Almasi, among others.
Her death comes at a time when hundreds of patients in the county are seeking treatment in private hospitals due to the industrial action that has paralysed services in all public hospitals.
Nurses on Tuesday threatened to take legal action against governors who will replace any of them on strike.
SHORTAGE
Kenya National Union of Nurses secretary-general Seth Panyako said the advertisements placed in the dailies by some county governments were misguided.
"They (governors) cannot afford to have the nurses replaced. Already, there is a huge shortage of nurses. They should create more job opportunities for the nurses," he said.
On Tuesday nurses were to meet with a conciliator appointed by the Ministry of Labour but the secretary-general said the meeting did not take place as the government failed to turn up.
In Vihiga and Kisii, patients continued to suffer even as authorities warned striking nurses, again, of the sack.
CLINICAL OFFICERS
The situation in Kisii was worsened by the decision by clinical officers to join nurses in the strike.
Branch chairman Polycarp Maranga said they will stay away from all public hospitals.
And at the Malindi Sub-county Hospital, medical superintendent Hossan Ajuk said they are using the little resources available to try and help normalise the situation at the facility.
In Taita-Taveta, striking nurses said the move by the county government not to pay their August salaries qualifies as intimidation.
PATIENTS
The Knun branch chairperson Halima Hassan said more than 300 nurses were yet to receive their salaries.
Medical services in Nyamira also ground to a halt on Tuesday.
Patients who had appointments with doctors at the county referral hospital were turned away after doctors kept off their working stations.
Hospital superintendent Sam Ombati said the doctors did not officially communicate the decision they took.
PRIVATE HOSPITALS
In Mombasa, patients battling mental illnesses suffered a major blow after the total shutdown of the only public mental health hospital, Port Reitz, at the Coast.
At the Meru Teaching and Referral Hospital, interns attended to patients with the CEO, Dr James Kirimi, saying patients in critical conditions were being transferred to private hospitals.
In Tharaka-Nithi, patients opted to buy medicine over the counter without prescriptions.
In Murang'a, Health chief officer Joseph Mbai said in-patient services had been suspended.
Reports by Winnie Atieno, Elizabeth Merab, Charles Lwanga, Lucy Mkanyika, Isabel Githae, Alex Njeru, Ndun'gu Gachane, Irene Mugo, George Munene, Vivian Jebet, Derick Luvega, Henry Nyarora Elgar Machuka, Flora Koech, Philip Bwayo, Gerald Bwisa, Sheila Korir and Lillian Chebore