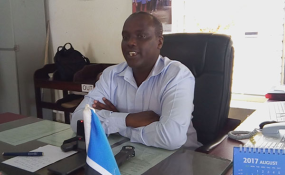 Photo: Kalume Kazungu/The Nation
By Kalume Kazungu
Lamu County Commissioner Gilbert Kitiyo has defended the ongoing multi-agency security operation in Boni Forest saying it has greatly reduced Al-Shabaab attacks and attempts in the county by almost 80 percent.
The operation, which is conducted by various security agencies led by the Kenya Defence Forces and the National Police Service was launched by former Interior Cabinet Secretary Joseph Nkaissery in 2015 with an objective of flushing out Al-Shabaab militants said to be hiding deep within the dense forest.
Addressing journalists in his office on Tuesday, Mr Kitiyo said the operation had successfully infiltrated the Al-Shabaab modus operandi and hence they were a step ahead of the militia group who have been conducting savage attacks on the military and police with civilians being caught in the melee on most occasions.
"We have really achieved a lot since Operation Linda Boni started two years ago. I can confidently say that the capacity of Al-Shabaab to attack in large numbers has been cut by a larger margin. It has reduced by almost 80 per cent. That means we are making reasonable progress," said Mr Kitiyo.
SUCCESSFUL
About a week ago, Operation Linda Boni Director Joseph Kanyiri said the security units conducting the operation had successfully destroyed three key Al-Shabaab hideouts at Lango la Simba in Witu Division which borders Boni forest.
Mr Kitiyo said the national government will not retreat in their quest to rid the forest and Lamu County as a whole of Al-Shabaab elements.
He said the government had posted enough officers and facilitated the operation with equipment to ensure the exercise is a success.
The county chief said Operation Linda Boni had specifically been successful in the war on Al-Shabaab and that more efforts were still being put in place to ensure the main mission is achieved in the coming days.
He added that before the operation, Al-Shabaab would attack using vehicles and other machines but since launching the operation, movement of the militias had been paralysed and so the group had resolved to using local agents within the community to organise and carry out attacks.
COOPERATE
Mr Kitiyo also asked members of the public to cooperate with security agents by surrendering any useful information to security forces.
"We are alert and we call on members of the public to cooperate with us in order to completely rid Lamu of Al-Shabaab. As government, we won't rest until we win this war on terrorism," he said.
Lamu is home to mega investment projects including the Sh 2.5 trillion Lamu Port South Sudan Ethiopia Transport (LAPSSET) corridor project, the proposed Sh 200 billion Coal-fired Power Plant, Sh 21 billion Wind Power project and the multimillion Zarara Oil and Gas Exploration in Pate Island, all these projects, Mr Kitiyo said are making the national government to work hard in ensuring peace and stability in the region.
Mr Kitiyo's sentiments come a few weeks after Coast Regional Coordinator Nelson Marwa poked holes in the Operation Linda Boni and asked why it was taking so long to achieve its objective as Al-Shabaab continue to attack and kill civilians and security officers in the region.
Mr Marwa asked those involved to either up their game or be reshuffled adding that the operation was not bearing fruit due to the laxity and laziness of the officers involved.