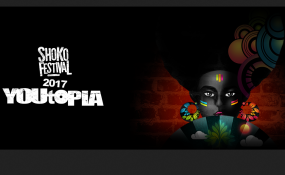 Photo: Shoko Festival.
By Tafadzwa Zimoyo
Hip-Hop is one of the biggest youth cultures in the world and has been steadily growing in Zimbabwe. Despite its popularity, a number of challenges continue to slow down the sector and keep the culture from being a commercially viable movement.
In line with that, and to continue promoting it, this year organisers of the Shoko festival have included the inaugural Zim Hip Hop Summit on their agenda. The summit held in partnership with Jibilika is a one-day event taking place at the festival aimed to create and discuss pertinent issues about Zimbabwe's hip-hop industry.
Show organiser Plot Mhako said important individuals within the hip-hop community will come together to share knowledge and information that artistes, promoters, managers, media and regulatory or authoritative bodies can use to pro-actively improve the state of the industry.
"Our line-up includes award-winning South African hip hop musician and businessman Siyabonga Metane aka Slikour presented by the Zimbabwe German Society, Stunner, Cal_Vin, Tehn Diamond, DJ Mox (Star FM), Lady K (The Fixxx, ZiFM), award winning videographer Blaqs, ZIMURA director Polisile Ncube, Phil Chard (The African Hip Hop Blog), PD The Ghost, Keisha Thompson (UK), Rafael Tudesco (Brasil), Mambila Mageza (from In Place of War), beat-boxer Probeatz, Joel Gombera (Senior Manager - Group Marketing CBZ holdings) among others.
"The summit will take place during the festival and will be made up of carefully curated panel discussions focusing on different key areas of the hip-hop industry," he said. Mhako said each panel will have highly knowledgeable panelists that will share their expertise on the given topics.
"Topics to be discussed include the state of Zimbabwe's hip-hop industry, The business of hip-hop and Lyricism, conflict and free expression. He said the project is centred on bringing together local and international hip-hop artistes, entrepreneurs and related stakeholders to dialogue.
"By sharing knowledge and information that individuals can take away from the summit, we hope that people can pro-actively work at bettering their art and the industry in which they operate," he said. He said the summit will help in the development of the artist first before the genre.
"The state of hip-hop in Zimbabwe is somewhat stagnant. Although we consistently see artists putting on showcases, people booking studio time and even an annual Hip-Hop awards show, there is often not much to show in terms of return or recognition.