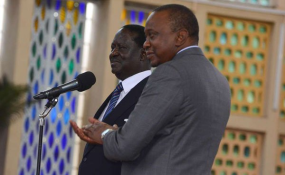 Photo: Jeff Angote/The Nation
By Sam Kiplagat
The Supreme Court has been asked to overturn a decision it handed down, nullifying the August 8 presidential election over allegations of impropriety against two of its judges.
In an application dated September 19, Prof Michael Wainaina wants the verdict annulled, saying the judgment can no longer be regarded as a majority decision, if it is proved that Deputy Chief Justice Philomena Mwilu and Justice Isaac Lenaola were in contact with lawyers who represented Nasa flagbearer Raila Odinga during the hearing of the presidential petition.
Prof Wainaina, through his lawyer Harrison Kinyanjui, argued that the integrity of the majority decision cannot stand in light of the allegations of impropriety, possible corruption, and violation of the Judicial Code of Ethics by the two judges.
"It ought to be vacated in toto, neither can it be regarded any more as a majority decision capable of sustenance," he said.
Mr Kinyanjui said the accusations of unlawful interactions of the two judges with the petitioners and their advocates to influence the outcome of the case creates the impression that justice "was peddled for corrupt and undue influence, and was for sale, and, indeed, was sold".
The court delivered its judgment on September 1.