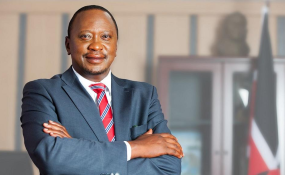 Photo: The East African
President Uhuru Kenyatta on Tuesday said he expects the fresh election to be held within the 60-day period set out in the Constitution after the Supreme Court annulled the August 8 presidential poll.
The President also said he expects the Independent Electoral and Boundaries Commission to conduct the poll.
He said no one had the right to impose conditions on the commission before the repeat election, and that threats by the opposition amounted to bullying, intimidation, and rogue politics, which were futile.
President Kenyatta spoke when he received 8,000 delegates from Narok County during an event in which former gubernatorial candidate Patrick ole Ntutu and 10 MCAs pledged full support for his re-election campaign.
UNLAWFUL
"The election must be done within 60 days (of the Supreme Court decision) and two, the election must be conducted by IEBC as required by the Constitution," said President Kenyatta who was accompanied by Deputy President William Ruto and Narok Governor Samuel ole Tunai.
Mr Ruto said no one had the authority to interfere with the right of Kenyans to exercise their democratic will. "Our competitors should stop telling us that there will be no election. Who else has powers and authority to tell Kenyans that they cannot exercise their constitutional right?" asked the Deputy President. "We must all follow the law."
He added: "The opposition used unconstitutional means to remove Samuel Kivuitu from office, a similar method was used to remove Issack Hassan from office and now they want to use unconstitutional means to remove the IEBC secretariat. This will not be allowed."
The Deputy President said Jubilee accepted the Supreme Court ruling so as to abide by the rule of law but that should not be misconstrued to mean that the party is weak.