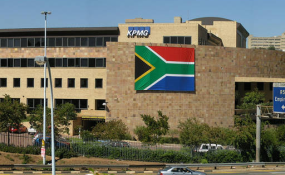 Photo: KPMG South Africa
analysis
By Wayne Duvenage
While the KPMG saga unfolds, the picture of the non-existent "SARS Rogue Unit" becomes clearer as a result of what was not (as opposed to what was) reflected in their report.
The right for the accused to be heard is a fundamental in any investigation of this nature, and that right was glaringly missing in KPMG's reporting action.
The very people implicated in the SARS Rogue Unit report were not given the opportunity to be heard and therein the grave sin of a biased and pre-determined outcomes-based report was unleashed, causing unnecessary turmoil, with crippling consequences in the lives of those implicated therein. South Africa also suffered as a result of this report.
The subsequent emergence of a plot to undermine the people that SARS Commissioner Tom Moyane wanted removed from the organisation has surfaced. And to save face, he is clinging for dear life to a now (partially) rescinded report, despite evidence that his attorney e-mailed the KPMG investigations team with details about "what it was the report needed to find". The process was never intended to be fair or just, and KPMG, along with SARS, find themselves in deep trouble. SARS will survive - it has to -...