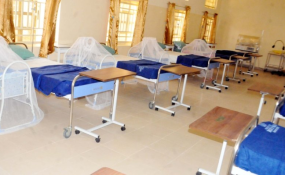 Photo: Premium Times
By Rebecca Davis
The right of terminally ill individuals to end their life when, and how, they choose has been a battle fought before South Africa's courts in recent years. An application launched at the South Gauteng High Court has now brought the issue into the spotlight once more. At the heart of the matter: a Johannesburg doctor and patient duo arguing for the right to undergo physician-assisted euthanasia lawfully.
For years, Johannesburg doctor Sue Walter helped to ease the pain of terminally ill patients nearing the end of their lives. Walter, a palliative specialist who previously served as a director of Hospice Houghton, founded the 11 Angels Foundation to assist terminally ill patients to explore every possible treatment.
And then Walter was diagnosed with a terminal illness herself.
Court papers lodged at the South Gauteng High Court in late August record that Walter, 43, was diagnosed with multiple myeloma - a form of blood cancer - in February 2017. Now she is approaching the courts to ask for legal permission to end not just her own life, but also that of patient Diethelm Harck.
Harck, 68, who is retired, was diagnosed with motor neuron disease - the condition which...