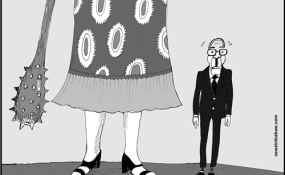 Photo: New Zimbabwe
Independent MP Temba Mliswa has accused the First Lady Grace Mugabe of scuttling efforts targeted at combating corruption.
Mliswa, who interjected during a debate, this Tuesday, on President Robert Mugabe's speech at the opening on the fifth parliament by Zanu PF MP Daniel Mackenzie, said the First Lady's actions nullify her husband anti-corruption sentiments.
Mackenzie had earlier said although Mugabe's anti-corruption remarks last Tuesday were appropriate at a time the country is battling to combat the vice, they have been reduced into a bluff as no prosecutions have been achieved.
"We say we abhor it but we tolerate it. Only the small ones get arrested," said Mackenzie.
Mliswa started shouting, "It's because of the first lady. The first lady stops everyone from getting arrested."
Corruption watchdogs have often faced drawbacks from excessive executive interference in corruption cases they will be investigating resulting them suffering a premature death.
President Robert Mugabe has exonerated corrupt senior government officials including the current envoy to the UN Frederick Shava. Grace on the other hand ordered the Zimbabwe Anti-Corruption Commission off Higher Education minister Jonathan Moyo who is accused of abusing Zimdef money and vice president Phelekezela Mphoko has been in the media for ordering the release of "corrupt" Zinara officials.
Another ruling Zanu PF MP and former senior police officer Oliver Mandipaka weighed in saying those implicated in shady deals should be tried and punished if convicted before Zimbabweans can enjoy a corrupt free society.
"We need action. I want to call upon the executive and responsible agents to act so that we have confidence in the executive," he said.
Zimbabwe is ranked 154 out of 176 by the Transparency International's Corruption Perception Index report of last year.